Emaar South, the future of Dubai, is another exciting master development by the premier developer Emaar, being developed near the site of Expo 2020. Dubai South is located in the vicinity of Al Makhtoum International Airport, ideally positioned on Dubai – Abu Dhabi highway. Within Dubai South, Emaar South is a sub-community by the premier Emaar. Surrounded by six-residential districts, the development built around 53,000 sq. m. of commercial space.
It also boasts an 18-hole championship golf-course and a number of open green spaces and parks where residents can spend some leisure time. Spread over 145 square kilometres, Emaar South comprises of spacious villas, majestic townhouses and magnificent apartment clusters. The guiding principles behind the design of this master development are connectivity, accessibility, liveability, sustainability and optimal residential density.
Emaar South – Where Future Belongs
Emaar South is termed as a family-oriented community, so it offers a number of family-friendly places and activities. The entire development is dotted with lush green parks, and green spaces as well as an 18-hole golf course to instil healthy habits and encourage an active and nature-focused lifestyle. Moreover, every major amenity will be located within walking distance and the entire community will be quite close-knit.
Not just the homes are completed with utmost attention and premium facilities, the residences are complemented by abundant green spaces along with a fine selection of retail and dining options. When it comes to connectivity, it is notable that despite being situated on the outskirts of Dubai, it is well connected to the rest of city; as the northern border of South Dubai is connected with Sheikh Mohammed Bin Zayed Road while the Southern edge is linked with Emirates Road.
From Emaar South it mostly takes 44 minutes' drive to Dubai Mall, 37 minutes to Palm Jumeirah, 41 minutes to Burj Al Arab and 38 minutes to The Walk JBR. Dubai International Airport is at 44 minutes' drive and the new Al Maktoum International Airport is roughly 12 minutes' drive.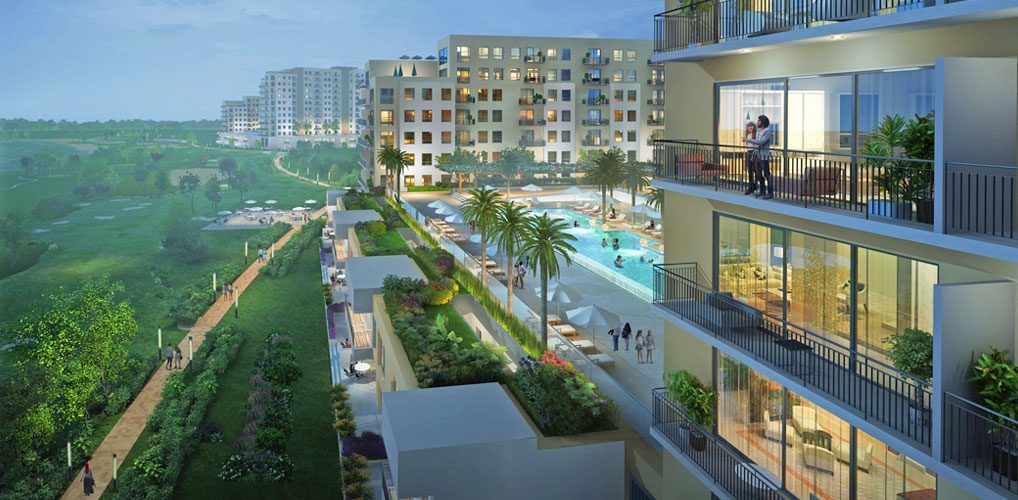 Properties in Emaar South
The master plan of Emaar South includes around 15,000 homes with configurations like villas, tiered townhouses and apartments. Villas and developments are also planned to be around the golf course in order to maximize the golf course views from the residences. Five major and most popular developments of Emaar South include Expo Golf Villas, Urbana, Golf Views, Golf Links and Saffron. Out of all these developments, Expo Golf Villas is by far the most-developed sub-community with a large number of ready-to-live villas.
Saffron is a collection of three and four bedroom townhouses set among parks and open green spaces. Golf Links puts forward four and five bedroom villas overlooking the golf course. Golf Views is a twin tower development overlooking the golf course and presenting one, two and three bedroom apartments. Urbana is a collection of more than 300 two and three bedroom tiered townhouses.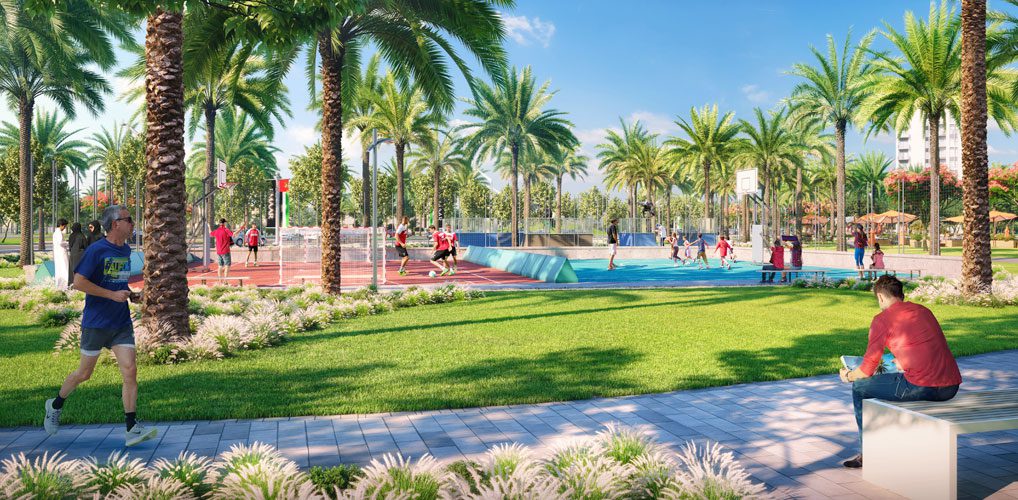 Transportation in Emaar South
There will be plenty of parking spaces in the community, with dedicated parking spots for residents in the development and villas. When it comes to public transportation, residents can access two bus stations located near the development. Both Dubai World Central, Staff Village and Dubai World Central, Freight House 2 bus stations are located at a few minutes' drive from the development. In order to access nearby metro station, residents will have to take bus to reach there.
Shopping in Emaar South
There are a few supermarkets in proximity to Emaar South in order to complete grocery run such as Zoom Supermarket and Al Nadir Supermarket. In order to fulfil other retail needs, residents will have to head to nearby shopping malls that include Ibn e Battuta Mall or City Centre Me'aisem. In Ibn e Battuta Mall, one can find countless retail options, restaurants, cafes and other leisure and entertainment options.
Restaurants near Emaar South
Majority of eateries can be found in Ibn e Battuta Mall including T.G.I. Friday's, Hatam, Starbucks and a large selection of other restaurants and cafes.
Location