A Multi-Award Winning Real Estate Company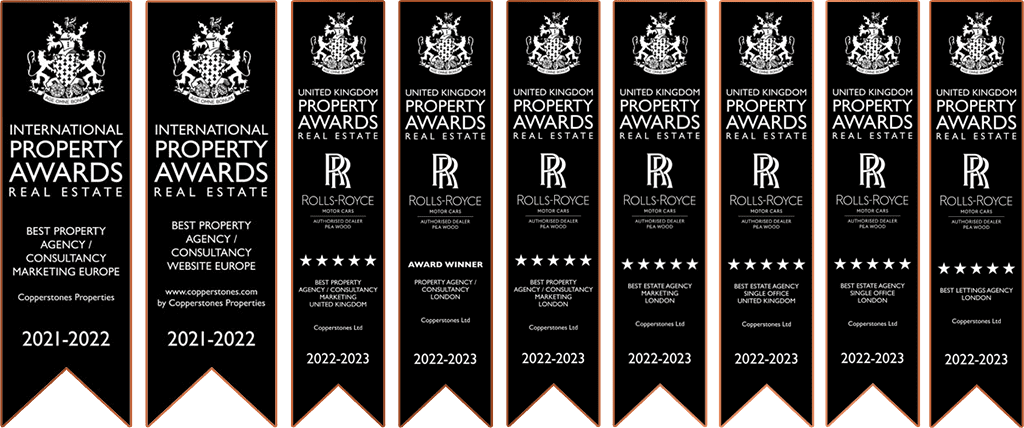 Estate Agency Marketing LondonCopperstones have proved to be the best marketing estate agency for London Properties for the Year 2019-2020.
Estate Agency Single Office LondonIt is the award that we won for the second time in a row. It recognized our efforts as a leading single office in London to serve the clients most efficiently in the Year 2019-2020.
Best Property Consultancy LondonCopperstones is recognized as the best and top performing property consultancy firm in London. Our team has proved to conquer and lead any upcoming project and sell the best properties to the clients.
Best Property Consultancy UKCopperstones has won the best property consultancy award of UK. There is no better achievement than being recognized for your efforts as the Best Property Consultancy across the UK.
Where
Hard Work Gets Recognized
These awards highlight and recognize the efforts and celebrate outstanding results and achievements in any sector. Our preference for high quality services and integrity has earned us top accolades from the industry's well-reputed stakeholders.
Copperstones
Is the Winner of Two International Property
Awards for
2021 to 2022
Nominated for excellence and innovation, Copperstones has emerged victorious in both categories. The team is honoured to win the Best Real Estate Agency; Single Office in London award and the Estate Agency Marketing in London award.
Despite the fact that Copperstones provides an array of services including luxury rentals, property management services, bespoke property search, overseas investment, and asset relocation strategy, we still are a boutique estate agency providing highly personalised services that go beyond expectations. This is a team work, which has been recognized and honoured by numerous awarding authorities, resulting in winning numerous awards for Copperstones.
Copperstones
has Won 7 awards in the United Kingdom property awards 2022-2023
Copperstones was nominated in seven categories in The United Kingdom Property Awards 2022-2023 and competed against the industry's best property professionals across the UK to be recognized in the categories of:
Property Agency / Consultancy Marketing United Kingdom
Property Agency / Consultancy Award London
Property Agency / Consultancy Marketing London
Best Estate Agency Marketing London
Best Estate Agency Single Office United Kingdom
Best Estate Agency Single Office London
Best Lettings Agency
Copperstones has not just competed against the best industry professionals but also emerged as winners in all four categories. The United Kingdom Property Award is the most acclaimed industry award throughout the region. And winning an award in any of its category is a mark of an excellence for property professionals.
Copperstones belongs to an exclusive team of high-scoring winners, as our company is now also among the world's finest award-winning property companies.
We're always eager to hear from you!
Please submit your enquiry and a member of our team will get in touch with you soon.