Main Content
4 simple tips for styling your home
4 simple tips for
styling your home
Make your house a home by mastering a few luxury interior design elements. Here are three simple tips to add subtle sophistication to any space:
Invite nature indoors
Bring the great outdoors inside by adding natural elements such as decorative shelves full of cactuses, foliage and flowering plants. The trend #plantshelfie on Instagram has 90.1k posts and shows no sign of stopping. Research by NASA revealed that houseplants remove up to 87% of air toxins in 24 hours. Opting for organic elements such as brick, wood and stone can also do wonders.
Classic contemporary
Blend old world charm with modern features. Classic items include chandeliers, herringbone wooden floors and marble statues. Exemplify easy elegance by adding carefully chosen antique items in clean contemporary spaces.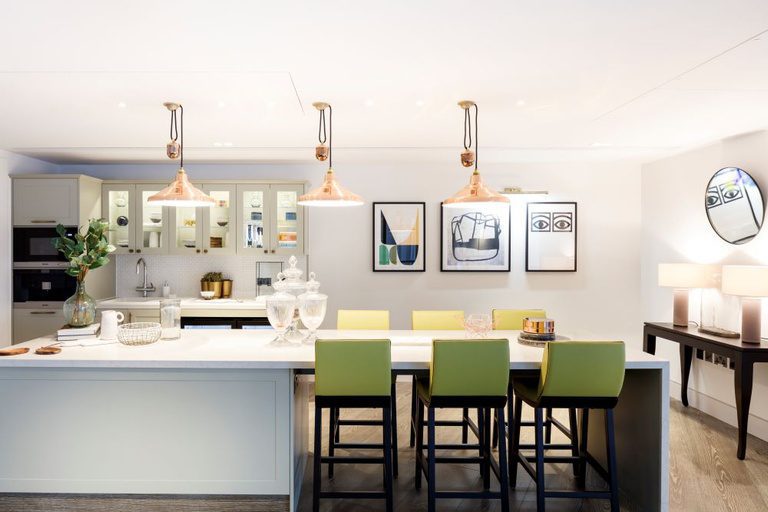 Bold and beautiful
Battersea Power Station dining room and kitchen
Colour blocking is a popular go-to trend from fashion to interiors. Stick to bright colours and simple silhouettes. Compliment pastels or dark grey shades with classic bright tones such as beige or cream for the best results. Alternatively, contrast textures for a surprising twist.
Artistic touch
Infuse your space with personality by incorporating unique paintings and interiors to showcase your style. Why not wander around independent artists' art fairs like Roy's People Art Fair in London, 4th-7th April 2019, showcasing emerging to established artists. Or simply shop online for original artwork from around the world on Artfinder, and unseen talent on Saatchi Gallery.
We're always eager to hear from you!
Please submit your enquiry and a member of our team will get in touch with you soon.