Main Content
Battersea Power Station in figures
Battersea Power Station
in figures
Did you know that St. Paul's cathedral could fit inside the main boiler house of the Battersea Power Station? A true marvel of design, a British landmark, and a cultural icon, Battersea Power Station never ceases to amaze the world with its character and history.
Battersea Power Station is currently undergoing a massive revamp that is worth up to £8bn and will gloriously lead to the rebirth of the icon and the creation of a new upscale riverside neighborhood. Once named the 'Temple of Modern Power', the Power Station is officially the most expensive building in UK history, as it currently valued at £1.6bn.
Besides its rich history and cultural legacy, Battersea Power Station is where the heart of the massive regeneration of Nine Elms beats. It is the centre of the £15bn revamp of the greater Nine Elms, Battersea and Vauxhall area that will completely transform South West London. As you might have guessed by now, the redevelopment is one of the largest projects in Europe and the numbers are truly staggering.
Let's take a look at the real impact of the Battersea Power Station development.
42 acres of land will comprise the overall site area, of which 6 acres are the Power Station's individual footprint.
14 architects, landscape designers, and interior consultants are working to create new homes and communal spaces of design excellence.
4,360 new homes are being built, of which 865 are already occupied or ready to live in.
3,134 parking spaces will be available for residents, employees, and visitors inside the development.
9,392 bicycle spaces will contribute to the footprint of the development while a cycle route to the US embassy is already open.
7 hectares of new public space will encourage community bonding while adding green zones by the river. The Malaysia Square, Prospect Park and the Power Station are the new major public spaces to open soon at the development.
450 meters of direct river frontage will ensure commanding views of the River Thames and Central London.
2 medical centres will serve Battersea Power Station residents and visitors.
3 hotels exclusive to the project will accommodate high-end guests and business travelers.
200+ new retailers and shops will create a new shopping experience for everyone in Battersea Power Station.
225,00 Sq. ft. of food and beverages will create the next destinations for London foodies.
700,000 sq. ft. of retail will feature famous brands, new designers, and high street names.
1.25m sq. ft. of office space will attract prestigious companies and brand names.
500,000 sq. ft. spread across 6 floors will house the Apple campus, the new Apple HQ.
322,000 sq. ft. of culture and leisure will turn the development into the ultimate work, live & play destination in London.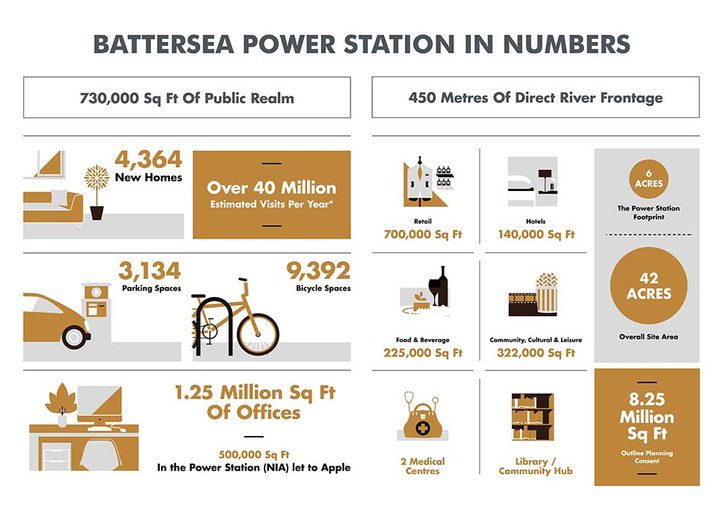 you excited yet? It is estimated that 40 million people will visit Battersea Power Station per year. We can offer you the chance to live by a true cultural landmark. Call us today on +44 (0) 8445 555 555 to discuss investment opportunities.
We're always eager to hear from you!
Please submit your enquiry and a member of our team will get in touch with you soon.