Main Content
Battersea Power Station offers Premium Health & Fitness Options
Battersea Power Station
offers Premium Health & Fitness Options
If you are a resident at Battersea Power Station or eyeing to have your abode there – you must be sure about one thing i.e. it's all about you in Battersea. The management has left no stone unturned to make people feel comfortable at home like no other. Besides all the worldly facilities, the residents can enjoy premium facilities such as an on-site private spa resort experience at home.
From diving into a temperature-controlled swimming pool to enjoy some solace in Jacuzzi, and from sweating in the prime gym to indulging in the healthy smoothies and juices from the juice bar – once, you start living in Battersea Power Station, you will never think to leave. Within the development, the residents can find a Health Club and Residents Gym – where every facility is provided including a swimming pool, treatment rooms, Jacuzzi, spa, wellness suites, and a relaxation area.
Battersea Power Station is globally renowned as a world-class mixed-use project that offers premium facilities to the residents under one roof. When it comes to living at the best, it includes staying fit, healthy and motivated, which is of supreme importance for your physical and mental well-being. That's why, the development offers an on-site spa and gym facility along with some awesome franchises to power up your time as per your convenience to fit into your routine.
Let's have a look at the number of options that Battersea Power Station offers to its esteemed residents.
The Spring Spa
The Spring Spa is a luxury spa and wellness club that offers numerous health and fitness-related services to the residents. Spread over 1000 sq. ft., it is an on-site spa and gym that boasts a 20-m long, three-lane swimming pool at the heart of the project. The Spa also includes a fitness centre, treatment rooms, wellness suites and a relaxation area. The gym is strategically designed with different zones to instil a feeling of openness, for guests' orientation and design to make the most of the natural light.
The swimming pool area is the dedicated relaxation area in the Spring Spa that boasts a tranquil yet versatile surrounding with plenty of natural light, adjacent to the steam room, sauna, and Jacuzzi. Residents can use this place to host an event or as a quiet place to be used for reading or having a small business meeting. When it comes to the gym suite, it has a distinct accent that complements the industrial sense of the greater Battersea development, with exposed servicing and concrete. A 40-person gym, a yoga studio, and personal training rooms are among the added amenities.
The Spring Spa is located in the first phase of Battersea Power Station – the Circus West Village and is run by a team of professionals. And this is not all for Battersea Power Station's residents but the development offers a lot more such as online fitness classes by 3rd party wellness retailers, healthful meal and shake options, and mindful activities.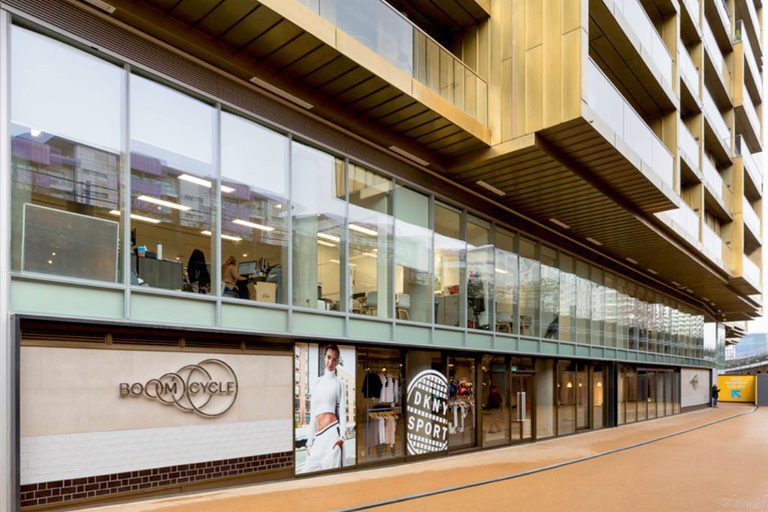 Boom Cycle
Located at Battersea Power Station in Circus West Village, Boom Cycle is a signature fitness studio. It does not offer any ordinary workout session but is renowned for its high-energy, music-focused sessions for fitness enthusiasts. The studio has the best trainers in the UK and offers different genres of fitness classes that can be customized according to every individual's strength and fitness goals. You can also join Boom Cycle's signature 45-minute classes plus express 30-minute sessions during lunch hours.
Since its launch back in 2011, Boom Cycle has taken the fitness industry by storm as it is much more than an ordinary fitness studio. The studio also boasts a Boom Bar, where you can enjoy a variety of caffeine- induced drinks from London Grind Coffee, some shake options with Neat Nutrition, a glass of wine or Prosecco – an interesting way to cool off after a powerful workout.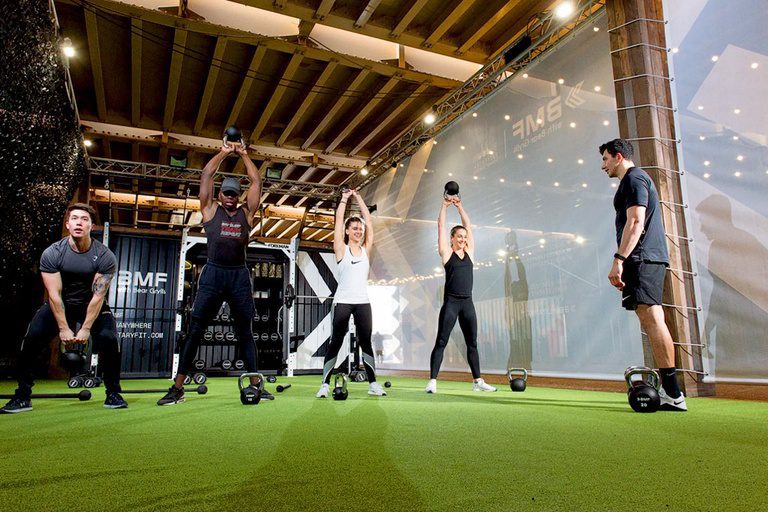 BMF – Be Military Fit
Who does not want to get trained by the matchless hard-core trainer – Bear Grylls? Moreover, BMF has adopted a conventional yet twisted fitness routine i.e. outdoor training and that is why, BMF (Be Military Fit) has become fitness leader in such a short period. The project was initiated for people to be able to train anywhere and the training methodology is to achieve results. With a new and revolutionised workout routine, the mission is to train hard (through anywhere), and live easy.
BMF at Battersea Power Station offers numerous types of fitness programmes that promise results while combining all-round fitness training, fitness programmes that involve physical challenges, and being fit to compete with others.
How exciting is it to be a part of this iconic Battersea Power Station that gives several new reasons to be joyful about? It is a wholesome residential project in the true sense and if you want to be a part of this development, take out your phones and call the team Copperstones at (+44) 203 888 5555 or leave a message. We would love to help you buy a property in Battersea Power Station and be a part of this oh-so-amazing development.
We're always eager to hear from you!
Please submit your enquiry and a member of our team will get in touch with you soon.