Main Content
Planning for Weekend Getaway? Here's a Guide to Cafes & Bars in Battersea Power Station
Planning for Weekend Getaway?
Here's a Guide to Cafes & Bars in Battersea Power Station
Do you know that Clapham Junction station is geographically located in Battersea Power Station? Or being on the cover of Pink Floyd's Animals LP album, a psychedelic group Junior's Eyes made a concept album on Battersea Power Station? Or that Battersea Power Station has been a cultural icon ever since it was used by Alfred Hitchcock in the opening scenes of his film "Sabotage"? Or from 1950, water from the boilers of the power station was pumped through a tunnel under the River Thames to provide hot water and central heating for Pimlico's Dolphin Square apartments and Churchill Gardens housing estate?
Aside from its movie star status and rich cultural history, Battersea Power Station has been completely transformed now. Aside from offering luxury apartments and high-street fashion stores, the entire development is brimming with cafes, coffee houses, all-day brunch spots and several Instagrammable dinner locations.
Considering the opening of a brand new tube station at the door-step of Battersea Power Station, a lot of people have been planning to visit this side of London this weekend. Therefore, we have been on the hunt to see where you can find the best coffee or a weekend drink in Battersea. If you are looking for the best restaurants to eat out you must read our guide to top restaurants in Battersea Power Station, for the right options. Trust our choice because we are presenting just the best here, to make your weekend outing worthwhile. Ready to quest? Let's begin…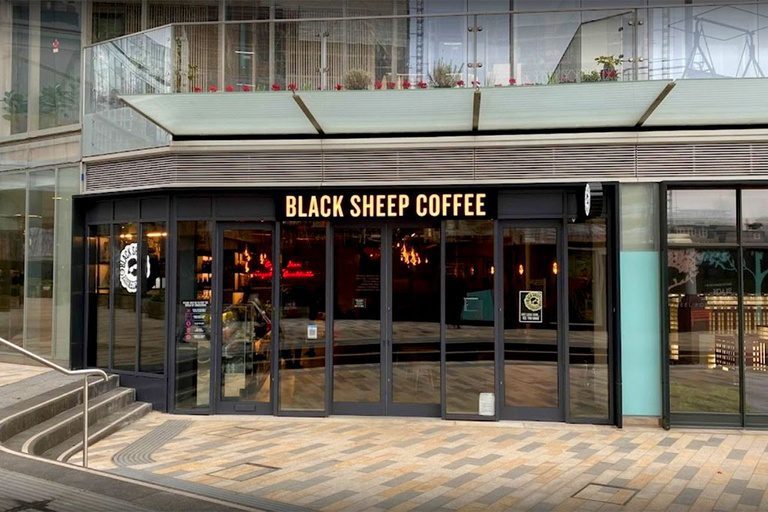 Black Sheep Coffee – Battersea
Black Sheep Coffee is calling all coffee-loves because the specialist coffee chain has opened their new branch at Circus West Village. Gabriel Shohet and Eirik Holth, the names behind Black Sheep Coffee have left the competition behind with their 100% speciality grade Robusta coffee and espresso martinis. If you are visiting Battersea Power Station and thinking to have coffee, look no further as you will not just enjoy coffee brews or iced lattes but can sip on smoothies and shakes along with having picturesque views of the River Thames and the gigantic power station.
Besides these coffee shots, you can have delicious espresso martinis and chilled beers in the evening.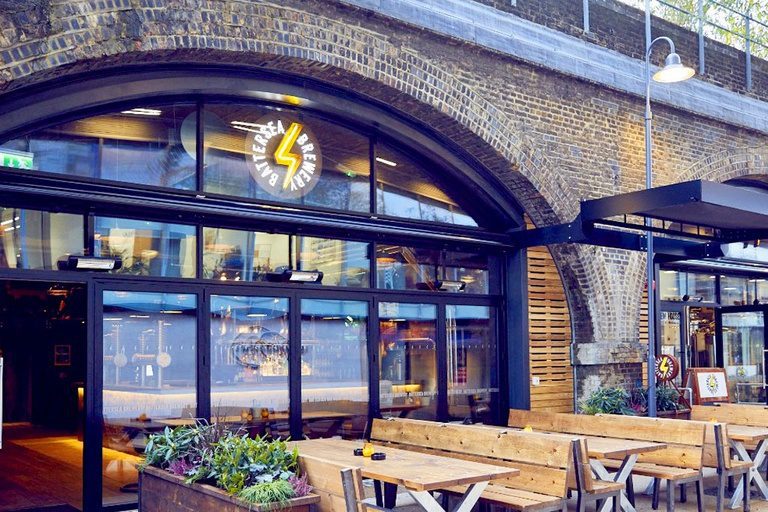 Battersea Brewery, Battersea Power Station
Battersea Brewery creates amazing beers in South West because the taproom is on the site and fresh beer is pumped every time directly into the tanks from the brewery. It is because the team has the experience and they know what appeals to the visitors. Mosaic Pubs team is behind this first micro-brewery venture at Battersea Power Station. Located on Arches Lane alongside Tonkotsu, Boom Cycle, and Cinema, Battersea Brewery stands out from the crowd.
The bar offers an array of craft beers, German-style lager, Aura along with special guest beers from around the world.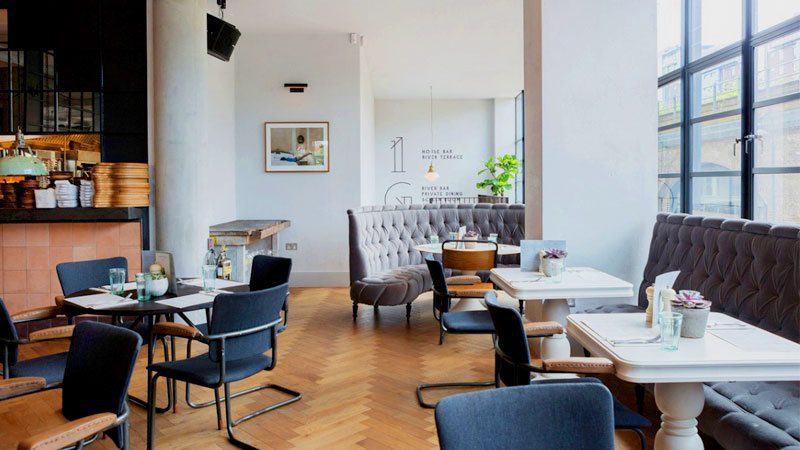 No. 29 Power Station West
Belonging to the independent group of Darwin & Wallace, No. 29 offers a relaxed, laid-back experience at Battersea Power Station for all visitors. The Battersea branch has two terraces – one, an elevated patio overlooking the River Thames while the other one is indoor – but the design theme of the entire bar is inspired by local and international rustic hues. You can find everything here from a morning cup of coffee to the round of drinks at night and everything on the menu, in between.
With richness in design and variety in the menu, No. 29 Power Station is the best option to visit at Circus West Village.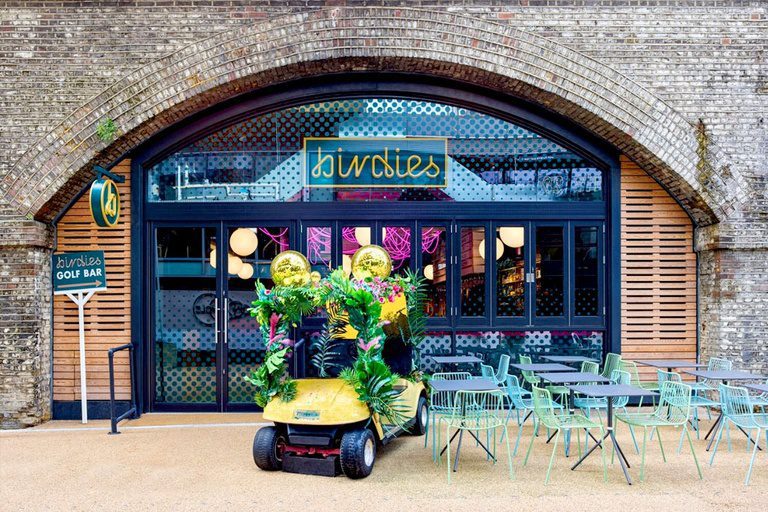 Birdies, Battersea Power Station
Located beneath the railway arches in Circus West Village, Birdies is a unique kind of cocktail bar that offers a crazy golf experience at its 9-hole course. If you are planning to have a surreal golf experience or want to polish your golfing skills, you must take on the challenge and immerse yourself in the wonderful world of Birdies. The venue boasts some ridiculously crazy golf courses, where the fun is completed with the signature meals or a large selection of cocktails and the victory is celebrated with a glass of wine, beer or other signature drink.
Birdies also has an outdoor patio for people who come to dine in at the award-winning experiential escape.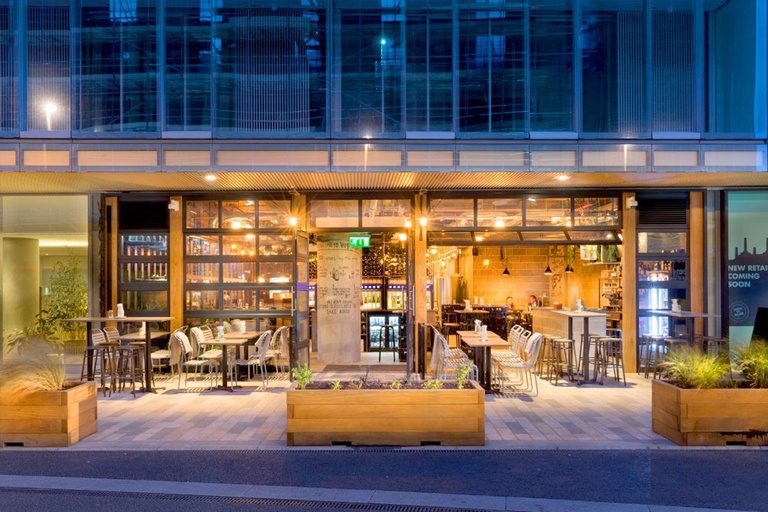 Vagabond Wines, Battersea Power Station
If you are a fan of a relaxed wine bar idea, you have likely heard of Vagabond Wines bar in London, which is already a favourite spot for many renowned people. Why? Because the Vagabond team has been working for years to make this bar experience accessible for all. Therefore, at Vagabond – customers come first and they design the entire experience approachable for valued customers.
Located at Circus West Village, the menu offers you to choose from hundreds of wines to choose from. It all depends upon you and your preference for the wine taste, whether you go for the budget wines or opt for some more expensive options.
We're always eager to hear from you!
Please submit your enquiry and a member of our team will get in touch with you soon.