Main Content
Stunning Aston Martin Residences Downtown Miami Nearing Completion
Stunning Aston Martin Residences
Downtown Miami Nearing Completion
Unrivalled luxury, matchless craftsmanship, and uncompromising standards – These are the few words that describe Aston Martin Residences, Downtown Miami. Another interesting feature that lures high net-worth individuals towards Aston Martin Residences is the chance to live the legendary James Bond lifestyle. As the first signature residential apartment project is nearing completion in Downtown Miami, it is bringing homeowners closer to make their dream come true.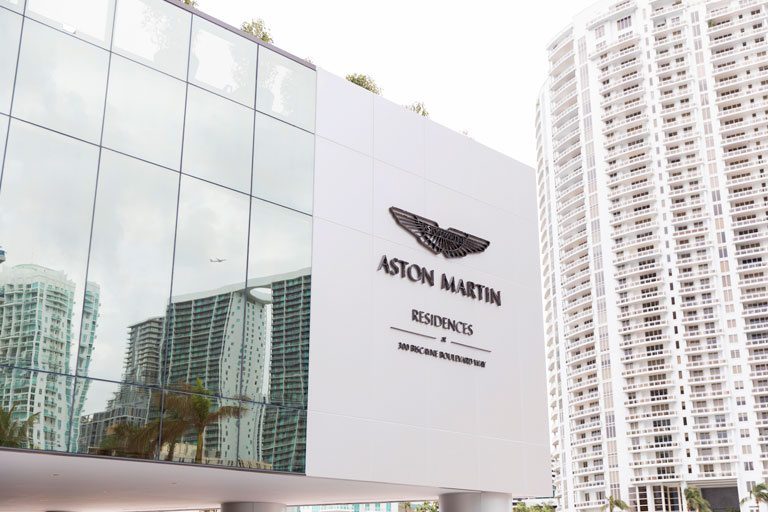 How did it all begin?
The iconic British carmaker unveiled the 66-storey, sail-boat line designed waterfront development in Downtown Miami in 2017. In this short span, the structure has reached 818 ft. height – and now Aston Martin Residences is in final stages of getting shaped up. Every aspect of the Aston Martin Residences is carefully designed with utmost attention to detail for a branded, ultra-luxury living experience.
The force behind the Aston Martin Residences
Aston Martin teamed up with G & G Business Developments– Argentina's leading global property developer, to complete this project to perfection. Upon completion, Aston Martin Residences Miami will bring 391 condos to Biscayne Boulevard. Aston Martin did not lend its name to be used for this iconic development but remained very much involved at every step during construction.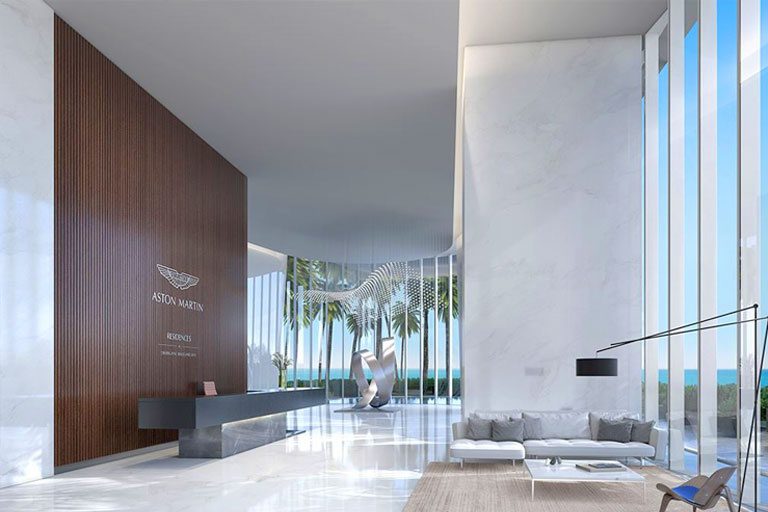 Aston Martin to offer exclusive lifestyle…
Aston Martin Residences is the Aston Martin's first and exclusive real estate venture, exactly like the Aston Martin cars, each one produced is bespoke and handcrafted. Therefore, every aspect is being carefully considered before creating a space in order to hand over a perfect blend of luxury, panoramic views, and contemporary lifestyle facilities.
Now Aston Martin design team, led by Chief Creative Officer Marek Reichman, have been creating spectacular interiors and designing the amenity spaces throughout the building to "reflect Aston Martin's timeless beauty". "With an architectural design that pays homage to the instantly identifiable, sleek lines of its motorcars, Aston Martin envisioned a structure that perfectly captures the spirit of excitement and graceful beauty for which it is world-famous," stated the Aston Martin design team.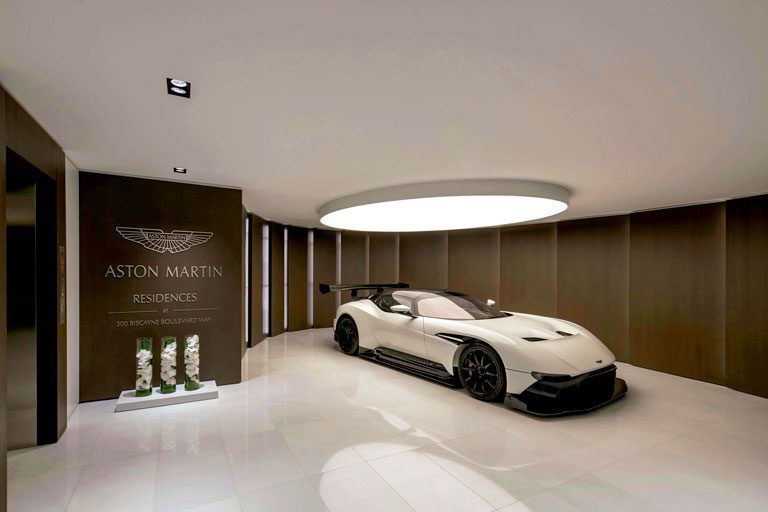 Salient features…
Aston Martin's chief creative officer stated that the branded residences are conceptualized around the buyer's car; thus creating exclusive, never-seen-before spaces to showcase an automotive work of art inside an apartment building. Dubbed as the Aston Martin Automotive Galleries and Lairs, when it comes to Aston Martin's signature development, the tower offers state-of-the-art services at every level. For instance, it allows homeowners owners to create custom-made garages where their car takes centre stage in their luxury residences and they can share their passion for cars with their guests.
The entire development hints to take inspiration from the car brand (Aston Martin) such as the reception desks are made from carbon fibre, doors have Aston Martin handles and leather door tabs.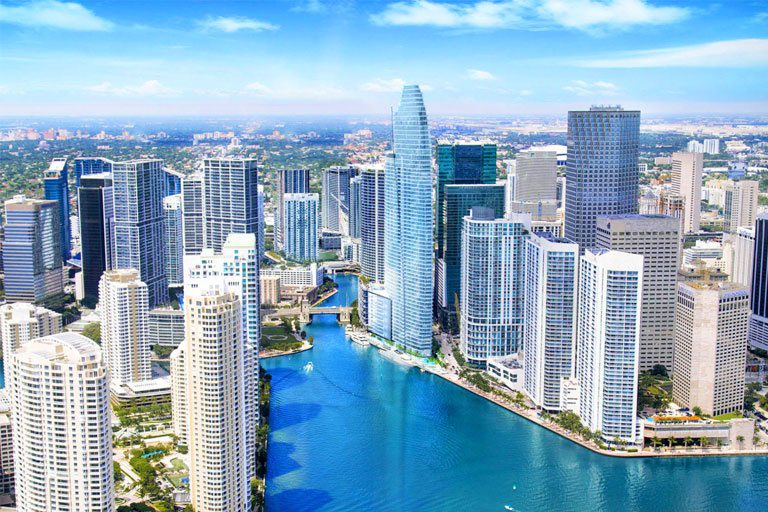 Aston Martin Residences – A collection of spectacular residences
Aston Martin Residences boast a range of apartments that spread from 698 sq. ft. studio apartments to the super expansive 10,463 sq. ft. penthouses and all the residences will be finished to the highest standards.
All the residences in Aston Martin are given special names to distinguish them from each other, such as the River Residences are the ones available on the first floors, followed by the Panoramic Residences, and there comes Sky Residences.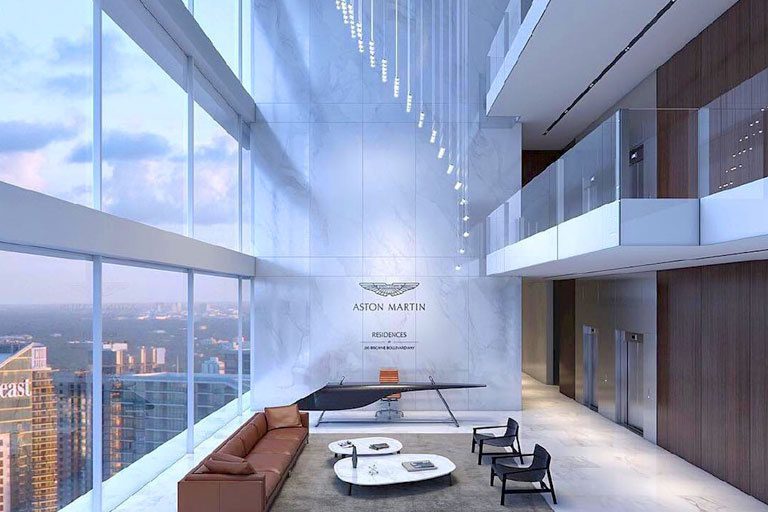 Aston Martin Signature Residences
Aston Martin Residences boasts seven "Signature" penthouses – featuring private swimming pools and spacious terraces. The "jewel in the superlative Aston Martin" is said to be the Triplex Penthouse, which is a mesmerizing "three-floor condominium" – spread over 27,191 sq. ft. at the pinnacle of the property.
To fully enjoy the true James Bond lifestyle experience, the homeowner of this triplex penthouse will be given a limited edition Aston Martin Vulcan, one of only 24 models of the brand's 820bhp, all-carbon-fibre supercar. It's engineered for track driving only. According to an official statement, "The multi-million-dollar limited edition showpiece of automotive art is resplendent in white, inspired by Miami and personally specified by EVP and Chief Creative Officer of Aston Martin, Marek Reichman, to reflect the city's tropical environment."
However, they will not be the only lucky buyers but other homebuyers in Signature penthouses and the 38 "Line 01" apartments – starting on the 15th floor, will also receive a bespoke Aston Martin DB11 Coupe or DBX Riverwalk Edition vehicle.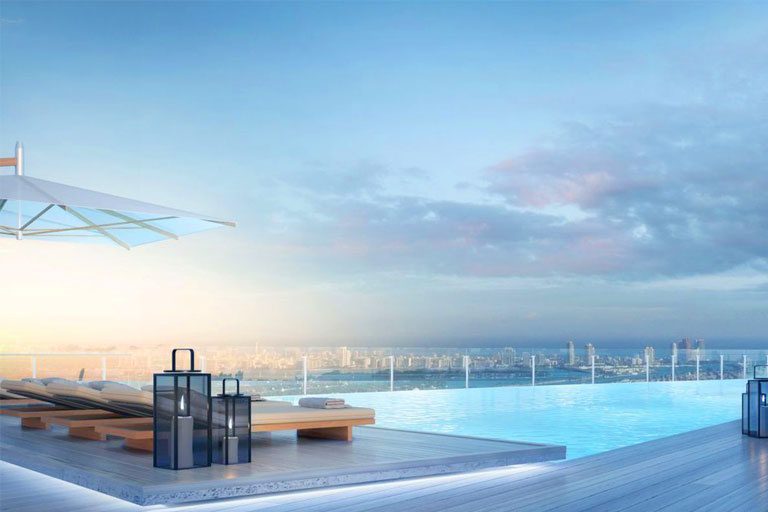 Aston Martin boasts another level of "Sky Amenities"
Aston Martin Residences boast another level of communal facilities on levels 52 to 55, for all the residents to come together and enjoy. And as per the official statement, these communal facilities will be anything but typical.
The communal facilities include a double-level fitness centre, a spinning studio, virtual golf room, boxing gym, full-service spa, chef's kitchen, a private dining room, two cinema halls, a beauty salon, and a barbershop. The Sky Amenities area will be connected by a glass staircase.
The apex of Aston Martin Residences will be a rooftop pool deck with an infinity-edge pool, Sky bar and lounge and a series of cabanas perched on 55th level – allowing the residents to enjoy breathtaking views of Biscayne Bay, the Atlantic Ocean, and the unapologetically mesmerizing cityscape.
Another signature feature of Aston Martin Residences is the availability of 24-hour valet butler service that will offer luxury travel support and several other home management services to the homeowners.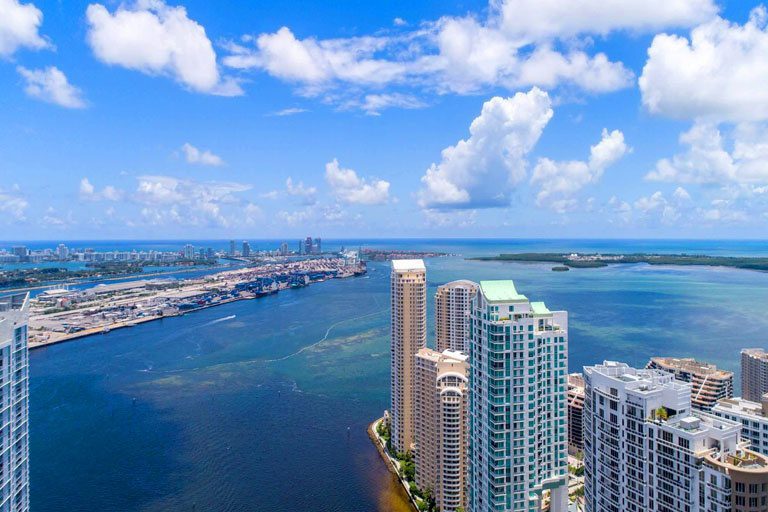 Aston Martin offers direct access to the Atlantic Ocean
This place serves as the only deep-water marina in Downtown Miami and the residents of Aston Martin Residences will be able to enjoy direct access to the azure waters of the Atlantic Ocean via exclusive yacht marina. If you have your private yacht, you can get an exclusive spot to park your yacht outside – just like a car.
Reichman says in a statement, "In this, our first residential development, the interiors are inspired by Aston Martin, but take into consideration Miami's tropical environment. Our design language is based on beauty and the honesty and authenticity of materials. It's simple and pure and it has an elegance attached to beautiful proportions. We are incorporating Aston Martin's DNA through subtle details and fine craftsmanship, with an emphasis on comfort. This building is for people who appreciate the finest quality and craftsmanship, who love the feeling of something that is timeless."
Do you know that more than 85% of the development is already sold? If you are planning to be a part of this iconic development, you can pick up your phone and call Copperstones at +44 203 888 5555 or leave us a query at: enquiries(at)copperstones(dotted)net. One of our sales representatives will get back to you for sure with the availability of apartments in Aston Martin Residences and a bespoke investment plan.
We're always eager to hear from you!
Please submit your enquiry and a member of our team will get in touch with you soon.