Main Content
The Residences – Dorchester Collection (What is happening on site?)
The Residences – Dorchester Collection
(What is happening on site?)
Following the trend of exceptional developments across Dubai, Omniyat put forth a stunning addition to the city's luxury landscape – The Residences, personifying the legacy of The Dorchester, London. The 32 storey building boasts 39 ultra-luxury residences offering an opportunity to acquire an address like no other. The development also has a hotel tower; the hospitality component will be managed by Dorchester Collection.
Salient features…
Ideally positioned on Marasi Drive in the Burj Khalifa District, The Residences Dorchester Collection is a luxury hotel and residential project
Combining sleek contemporary architecture with sweeping curves and a warm palette
A two tower development that focuses on utmost exclusivity, thus offering only 39 residences
Offering a five-star living experience within your home
Each residence features bespoke interiors with oak flooring, marble-finished bathrooms, Italian branded kitchens and seamless home automation technology.
Development overview…
Designed by Foster and Partners, The Residences – Dorchester Collection is a two-tower development; one of which is a residential tower and the other one is a hotel tower. Both towers will be interlinked by podiums at different levels. Another hallmark of this development are a series of white "free standing" concrete columns at the height of approximately 36 metres.
On-site amenities include…
24/7 Concierge Service
Valet service
Retail outlets
Residences manager on call
Rooftop infinity pool
Signature restaurants
A fully equipped fitness centre
Spa
Yoga studio
Residents' lounge
Private dining room on 24th floor
Members only sky garden
recreation and entertainment options at podium level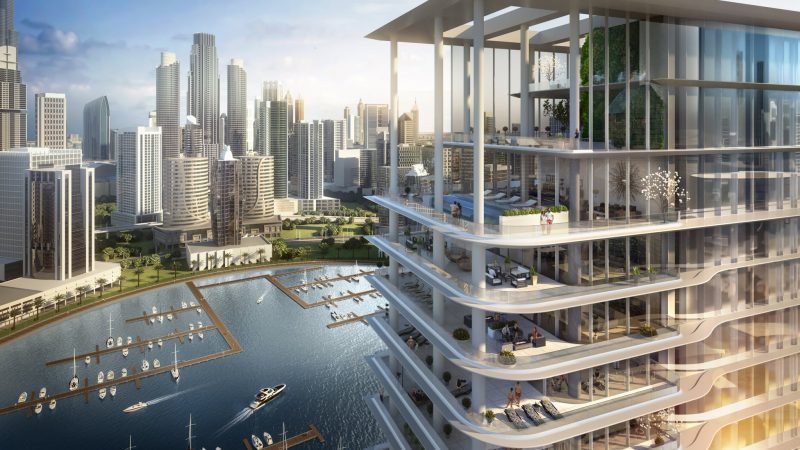 Construction update…
The development has achieved significant progress milestones in recent months – as primary structural work for the core walls and slabs is complete within the tower and has reached up at 32 storeys. Apartments have also been completed at level 8 of residential tower, which are not just completed but are also fully furnished and ready to become show apartments. According to BSBG, the landscaping is in progress now and the management is in process of compiling the documents for the Building Permit BP 8 submission to Dubai Municipality. On other end, Roberts Constructions has been working to complete the basement level 2 car park and all apartments in the residential tower to the clients for their fit-out works.
External façade near to completion…
Detail design submissions are in process and the MEP infrastructure works continues in both towers. External façade is almost ready and near to completion and free standing white concrete towers in the voids of both residential and hotel towers have already been completed. Even the scaffoldings are removed.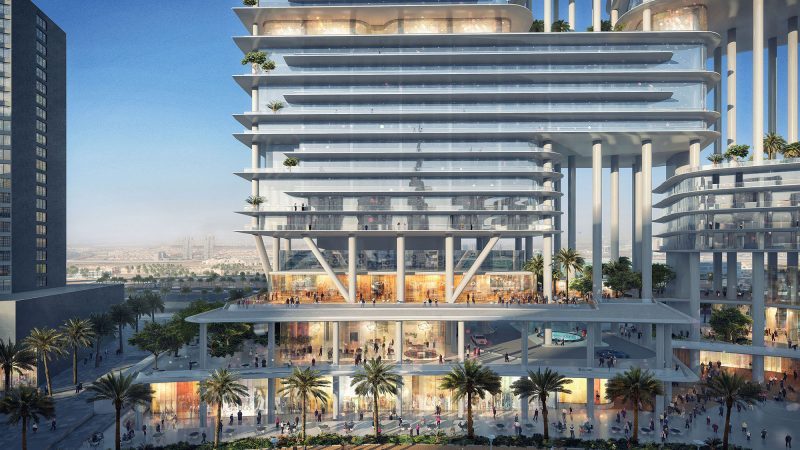 Design layout by Foster & Partners…
The architect of this stunning development is designed by Foster & Partners, while Roberts Constructions have been working on construction and development under a Design and Build Contract along with BSBG – performing a significant role in design coordination and timely handover of this landmark development.
We're always eager to hear from you!
Please submit your enquiry and a member of our team will get in touch with you soon.