Main Content
The thrill of waterfront living: Three properties to invest in today
The thrill of waterfront living: Three properties to
invest in today
Waterfront living isn't just about the ocean. International investors are often looking for luxury properties along riverbanks or lakeside to upgrade their lifestyle and connect with nature.
The rush of waterfront living tends to manifest in different forms and shapes in accord to each city's special character and style. Here, we have selected three prime properties by the water you can add to your investment portfolio today.
Riverside galore in Battersea Power Station, London
Owning a riverfront home can involve extra responsibilities and special considerations, however, there are properties that enjoy the best of both worlds. Properties in Battersea Power Station development offer riverside galore without any special conditions. Masterfully located on the former site of the Battersea Power Station, the luxury development has attracted billions of investment. This isn't only a historic regeneration project for London but also a fine example of mixed-use space to the highest standards. Residents of Battersea Power Station can enjoy walks by the river through the newly opened Thames path or benefit from a river commute by using the river bus.
There's something really unique about the Southbank of London and the development really portrays the fun and thrill of living by the water. There are plenty of activities for the whole family to enjoy every weekend at Circus West Village, the retail and art centre of the development. During winter, a long, relaxing walk by the Thames or a bike ride can help release the stress and rejuvenate the senses. When it's warmer, residents can indulge in al-fresco dining by the river in one of the many newly opened eateries or participate in the workshops. Battersea Power Station is growing to become a unique riverside premium community featuring state-of-the-art amenities and world-class design.
The regeneration of Battersea Power Station also includes the creation of a gorgeous riverfront park that will complement the promenade and ultimately become a meeting place for Londoners to rejoice.
Battersea Power Station development is best for investors who are looking for an iconic purchase that will stand out from their portfolio as a valuable asset not only financially but also historically and artistically. It's like putting one's stamp in the future of London.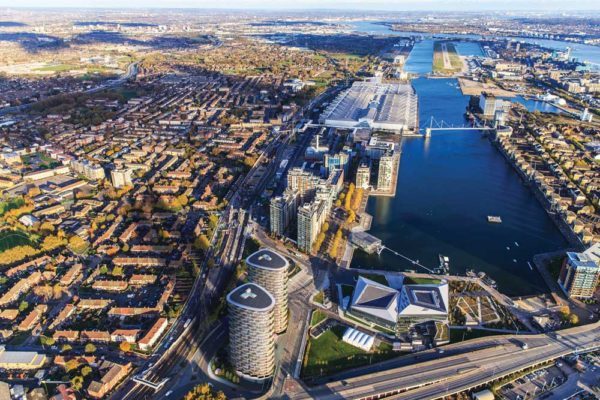 Riding the waves in Hoola, London
Living by the river isn't always about living on the bank. Residents at Hoola benefit from uninterrupted Thames views. Located in Royal Victoria Docks E16, Hoola is a pair of two modern residential towers that boast unmatched views of the O2 Arena, the Olympic Park and the City of London. Modern and stylish throughout, the apartments boast floor-to-ceiling windows and glass rippling balconies that make views from your home even more unique.
Hoola residents experience waterside living in a special way since the Royal Victoria Docks is the heart of the London docks regeneration that is set to transform this historic part of London. Hoola's location puts the fun in riverside living, as it's in close proximity from the WakeUp Docklands – the only place in London you can engage into cable wakeboarding, stand up paddleboarding (SUP) and SUP yoga. Royal Victoria Docks are the ultimate destination for avid water sports fans since there are also numerous rowing clubs, including the London Regatta Centre.
Hoola is ideal for busy investors full of energy, who appreciate London's diverse natural landscapes but also prefer to be close to the centre of the capital.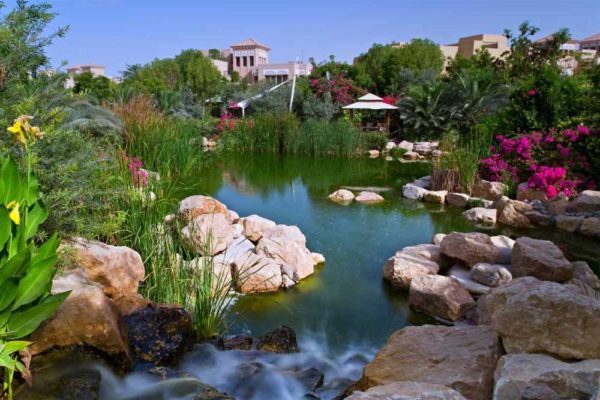 One with nature in Al Barari, Dubai
Al Barari, located in Dubai, is a luxury gated residential community in a true desert oasis. Featuring a natural reserve, landscaped ponds and pools, along with bursting waterways and streams. Green foliage blooms in every single corner allowing residents to be completely surrounded by the wilderness of the development.
Al Barari homes boast diverse fixtures, state-of-the-art amenities and ultra-modern design. The residential community is enveloped in the natural world and residents can enjoy the soothing sounds of running water across the development. Al Barari is setting the standard for any other sustainable development in the UAE since it is 60% of endless greenery.
Water is omnipresent in Al Barari with a living waterway system, aquatic plants and fauna encouraged by the waterway's own ecology. Unique in every sense, Al Barari offers cooling breezes and sweeping views of Downtown Dubai in a well-hidden oasis.
Al Barari is an amazing investment opportunity especially for those who are thinking of making Dubai their permanent home. Ideal for families, Al Barari offers a high quality of life through health built-ins such as a spa, gymnasium and an award-winning restaurant.
If you are interested in investing in a waterfront luxury property, call us today on +44 203 888 5555, WhatsApp or enquiry(at)copperstones(dotted)com
We're always eager to hear from you!
Please submit your enquiry and a member of our team will get in touch with you soon.