Main Content
What distinguishes Battersea Power Station from other developments in London
What distinguishes Battersea Power Station
from other developments in London
Once a coal-fired power station, Battersea Power Station is a landmark development located on the south bank of River Thames. Since forever, the building has gained popularity for its Art Deco inspired façade, red bricks and unique décor. The Grade II listed building remained empty until 2014 and feared to fell into ruin – while defying all regeneration and redevelopment attempts.
The regeneration plan that was approved includes transforming Battersea Power Station into exceptionally beautiful residential units, business centres, community clubs, corporate office spaces, restaurants, bars, entertainment spaces, and high-end retail shops. The tech giant Apple has already committed to moving its UK Headquarters to Battersea Power Station that gives a major boost to this project. It will occupy 500,000 sq. ft. of office space across six floors in the central boiler house in the Power Station and shift almost 1,400 employees from its eight London offices into this building.
Isn't the redevelopment of Battersea Power Station is something exciting, grand, and most spectacular in the city? Let's have a look at Battersea Power Station that how it is distinguished from countless other modern-age developments in London.
Restoring but conserving, too
Battersea Power Station is a remarkable development, therefore, it is decided to keep the novel design and making necessary changes only. Right from the earliest stage, it was decided to maintain the heritage of this landmark. It is known for its red bricks façade and four chimneys – red bricks façade is there and the symbolic chimneys have been replaced with the exact replicas. A glass elevator in Battersea is installed to take visitors on top of one of the building's iconic chimneys.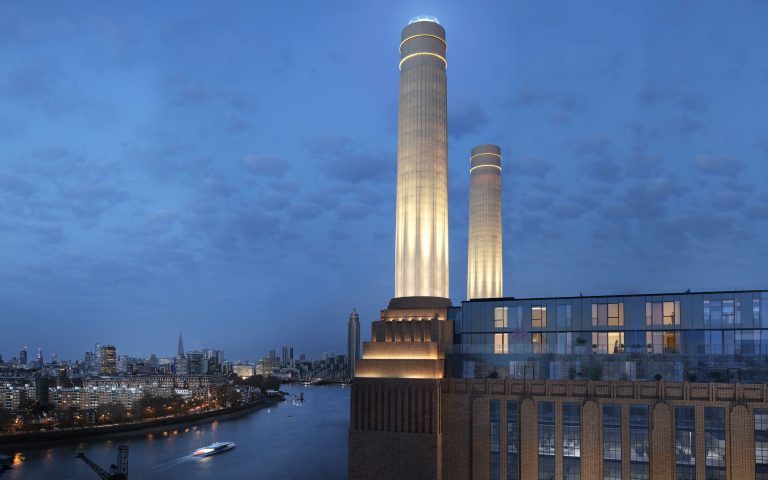 View towards the City
It is one of the unique features of Battersea Power Station that will take the visitors 109 meters high and offers views of London's skyline from a unique viewing platform. The developers, architects, and designers are focused to not just conserve the building but restoring it in the finest possible way just to ensure that neither the piece of history nor the operations are lost while making it a modern-age development.
New transport networks
The development is planned to work on new and enhance major transport infrastructure for better and efficient connectivity across the capital. And according to the plan, every mode of transport will get benefit from this significant development. For instance, an extension of the Northern Line and two new underground stations were proposed to increase the mobility of potential residents at Battersea Power Station.
Despite Covid-19 restrictions and lockdown in London, workers continued working on Northern Line and it is extended to the regeneration zone and two new stations are also expected to open later this year. On a test basis, the passenger trains have already completed its first journey from Kennington to Battersea Power Station.
Battersea Power Station has contributed around £200 million to the extension of the Northern Line. A new river bus service will also serve the development through a new jetty. Approximately 8,000 new cycle spaces, 2.25kilometre of the new shared cycle and pedestrian routes, and 1kilometre of new dedicated pedestrian routes will be created.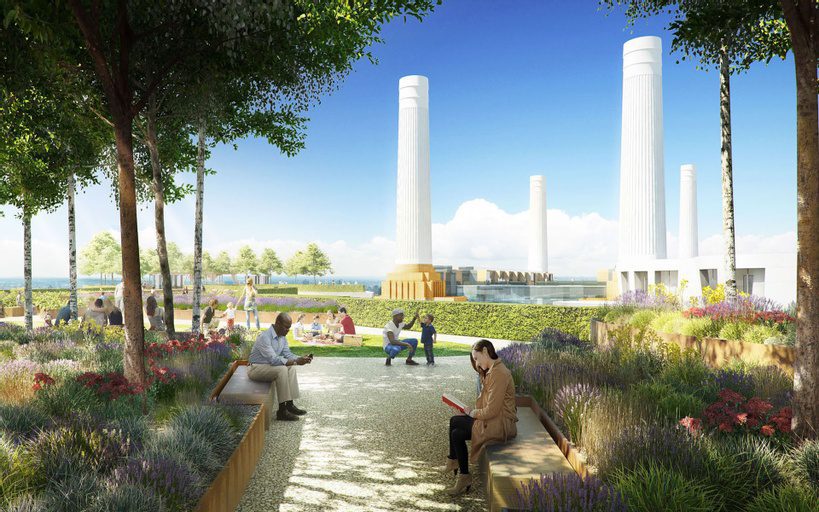 Acres of open green spaces
Creating new open space is at the heart of new masterplan of Battersea Power Station development. The idea was to deliver a communal lifestyle through this development and the vision is to craft a number of high-quality interconnected open green spaces for thriving mixed-use neighbourhoods to be used for leisure. Almost 20 acres of land are dedicated to creating new open spaces, which equates to almost half of the total site footprint.
Battersea Power Station Rooftop Garden
A large and circular water will be around the Power Station, which will not just be a focal point for the public space but will double the visual presence of the building by creating its reflection. Moreover, Gehry Partners designed an awe-inspiring kids' play area and signature community centre at the verge, where new Nine Elms linear park opens up to The Power Station site. It will be a wonderful value addition feature of the development that distinguishes it from the crowd.
Powering Battersea and neighbours
Battersea Power Station is a decommissioned coal-fired power plant but the new project also follow the lines of its innovative power generating heritage thus including its own Energy Centre and creating an integrated district energy network dispensed into a number of residential and commercial uses.
The Energy Centre spreads over 50,000 square feet in size is one of the largest ones in size that can provide off-site energy to the local area. Battersea will produce an estimated 6MW of electrical power and 6MW of heating from its CHPs. The combined heat and power plant will provide a local source of heating, hot water and cooling to the entire development. It is another unique feature that can hardly be found in any other residential or mixed-use development in London.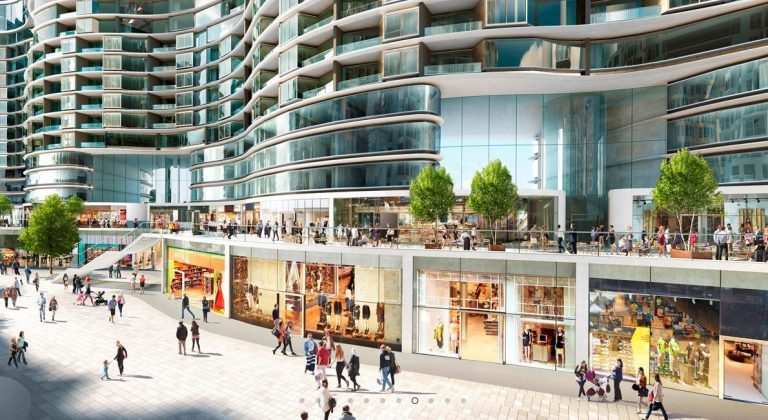 Premium amenities and facilities
Since the planning stage, the team that designed iconic residences at Battersea Power Station was sure to come up with premium amenities and world-class facilities in order to make living in London a unique and remarkable experience in its own. It definitely means that the residents' amenities must be classic that can make the living experience special thus the team came up with the idea of a bespoke residents' lounge – designed by David Linley that offers socializing and working spaces on the riverside and accessible by a triple story glass foyer.
Electric Boulevard
A rooftop swimming pool overlooking the Power Station and River Thames and a unique roof garden are also designed to distinguish the development from several others in London. Winter gardens are designed considering residents' need for open space in view and to offer them retail therapy, a list of high-end retail stores and restaurants is curated so that whatever residents will need is available on-site or within an easy walk. Be it a regular grocery shopping or a high-end designer item from one of Britain's hottest fashion houses. After knowing this much about Battersea Power Station, it is hard to ignore this iconic development. If you are considering this option and planning to invest there or experience the development as a tenant, pick up the phone and send us a quick message or feel free to contact us about your future plans. Our experts are always there to guide you in the right direction with a bunch of exclusive properties in Battersea Power Station.
We're always eager to hear from you!
Please submit your enquiry and a member of our team will get in touch with you soon.