Main Content
Is investing in Uber-Luxe Aston Martin Residences, Miami right choice?
Is investing in Uber-Luxe
Aston Martin Residences, Miami right choice?
Luxury properties always grasp attention but this sector has grown substantially in the last 2 decades and now the branded luxury developments are creating hype around the world. A few established brands like Armani, Aston Martin, Porsche, Bvlgari and others have started experimenting in the real estate sector in recent years. It is because property developments with brand names instantly become hit, be more credible and get recognition.
Why do people prefer investing in branded developments?
Though the branded developments offer added value like premium services, finest amenities, limited supply, and a sense of secure investment that will flourish in the coming time yet a buyer has to pay the premium price.
Since the property comes with a hefty price tag, the investor remains sure about higher resale value as an investment as compared to investing in a non-branded development in a growing property market. With property transactions gradually returning to a normal level after being halted by COVID-19 led pandemic, the demand for luxury and spacious properties is already doubled across the globe. It adds more to the existing trend that branded developments gain more attention.
Miami – the world's # 1 highest price growth luxury real estate city
When it comes to ranking the major cities in the world while comparing the luxury real estate prices:
Miami scored a top position with the highest price growth in the 3rd quarter, 2021.
It is established in a recent report published by Knight Frank. Owing to Miami's lower taxes, moderate temperatures, and more freedom, a large number of wealthy individuals from California, New York, and other cities of the USA have been moving to Miami and investing in luxury condos for sale there. The migration to this world-class global city has escalated the activity in Miami realty market that eventually led to an increase in the prices of Miami properties, especially, Miami luxury and branded properties.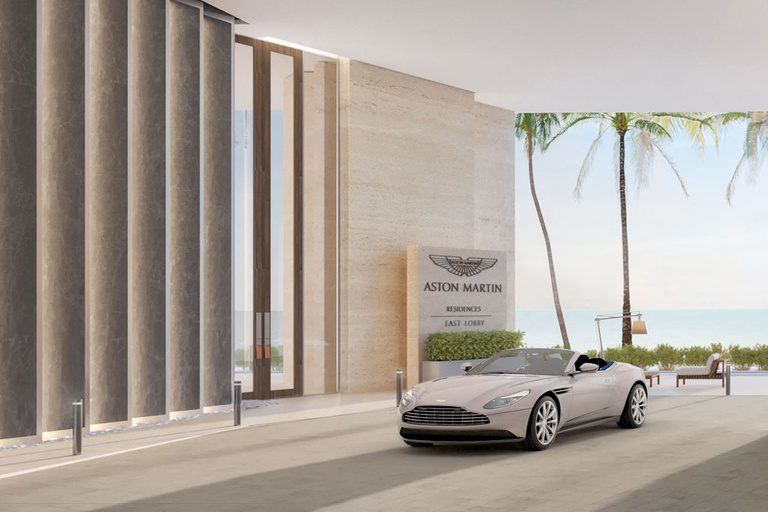 Aston Martin Residences – Where Luxury Meets Contemporary
Located on the exclusive Miami waterfront along the Biscayne Bay, Aston Martin Residences is the sail-shaped, ultra-luxury residential skyscraper in the epicentre of Downtown Miami. The super-tall development soars 66 stories above the sparkling bay waters and consists of 391 residences – ranging from standard luxury apartments to duplexes and ultra-modern penthouses. The awe-inspiring development was revealed in 2017 and boasts splendid architecture along with handcrafted details.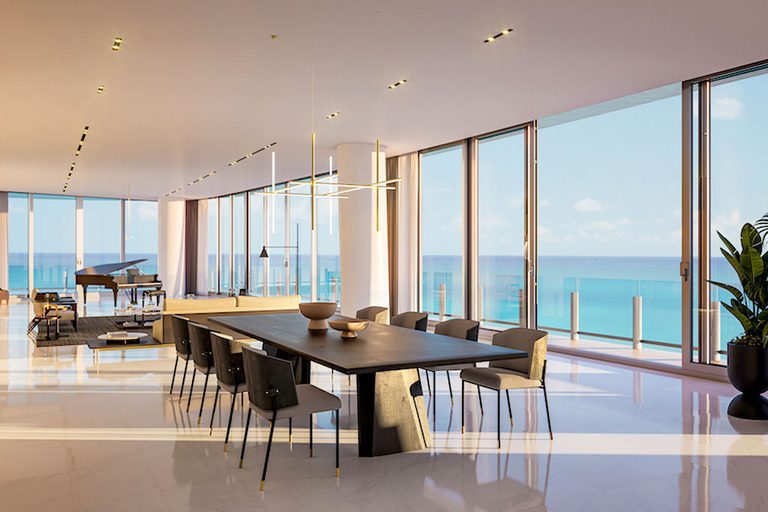 The development unveiled a new set of penthouses
At the beginning of the 3rd quarter of 2021, Aston Martin Residences unveiled a new collection of mega penthouses and luxury residences. The sail-shaped skyscraper has revealed 7 penthouses starting on the 56th floor and 38 smaller "Line 01 Signature Residences" starting on the 15th floor.
The magnanimous penthouses boast a generous size of a minimum of 8,800 sq. ft. and the lower floor, ocean-facing apartments start from 3,600 sq. ft. and come with access to the building's members-only community.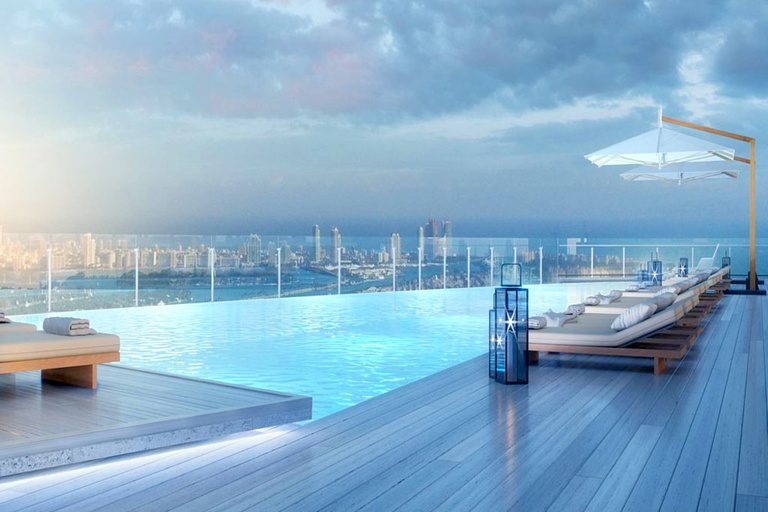 A look at shared communal facilities in Aston Martin Residences
As the name describes, the Aston Martin Residences boast one of the high-end properties in Miami and offer the world's finest facilities to its residents. Shared amenities are spread out over 42,275 sq. ft. between 52nd and 55th floors – connected through a glass staircase. Some notable facilities include a fully-equipped fitness centre, virtual golf room, boxing ring, private dining room, two cinema halls, catering kitchen, and a full-service spa.
An infinity pool, sky bar and lounge, and pool deck with cabanas are lining the 55th floor while the development features a permanent art gallery on its 52nd floor. If you are interested in some real sailing, a private deep water marina is also present next door.
If this is not all enough to entice you, then let us inform you that each new penthouse apartment comes with a private pool, gym, and staff quarters. Ceilings are 10 – 12 ft. high and come with floor-to-ceiling glass windows and sliding doors, premium white marble flooring, Bulthaup kitchens, and uninterrupted views of Biscayne Bay.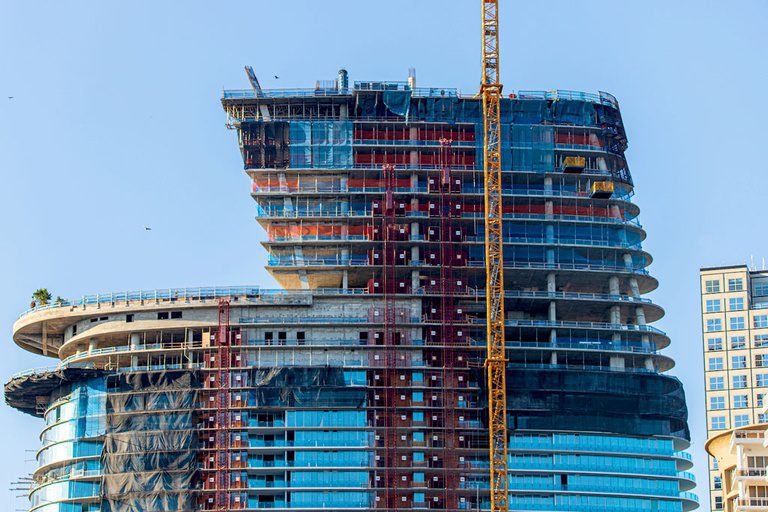 Aston Martin Residences nearing completion in 2022
Day by day, Aston Martin Residences is nearing completion as per the Copperstones sales team. Recently, the developer has revealed 7 penthouses from its Signature Collection and several penthouse units are planned on different levels from 56th to 62nd floor. However, a triplex penthouse will span from the 63rd floor to the 66th floor.
Completion is expected somewhere in 2022.
When the top floors will be completed, the project will stand 816 feet above the ground – making it the second tallest building in Miami.
If you are interested in Aston Martin Residences and want to be a part of this iconic landmark, you must contact the Copperstones team and we will definitely come up with a customized investment plan for you to fit into your budget and match your requirements. Pick up your phone and contact us at +44 203 888 5555 for further details.
We're always eager to hear from you!
Please submit your enquiry and a member of our team will get in touch with you soon.