Main Content
The art of southbank living
The art of
southbank living
London, a metropolis that celebrates all cultures and art forms through an abundance of varied and dynamic mediums- you will never be without inspiration and entertainment in this vibrant city. Widely acclaimed as the cultural capital of the world, the home of world-class opera, ballet, theatre, musical theatre, museums, galleries, music, exhibitions, this city has something for everyone.
Nine Elms and Battersea
This area is on track for keeping London's cultural status with a cluster of galleries honouring the cities appetite for contemporary art. Here are just a few.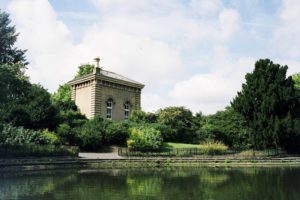 Pump House Gallery
A welcoming space for audiences to see, participate and engage in contemporary art. Supporting high-quality artistic activity that provides audiences with different perspectives on how, where and why we live the way we do is at the heart of Pump House
Pump House Gallery is currently presenting an exhibition of recent work by artist David Panos. Based on ongoing research into the relationship between cultural form, history and memory, the presentation examines the contemporary revisiting of motifs from the 1980s and 1990s, in particular from the 'alternative' and 'rave' subcultures.
www.pumphousegallery.org.uk
Admission: Free
Pump House Gallery, Battersea Park, London, SW11 4NJ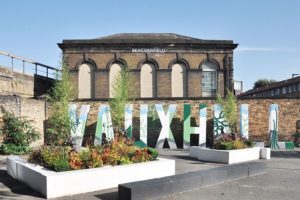 Beaconsfield Gallery Vauxhall
Beaconsfield Gallery Vauxhall (BGV) provides a critical space for creative enquiry. It is a unique artist-run testbed that has occupies a niche between the institution, the commercial and the 'alternative' and has provided a laboratory and presentation space for contemporary art and artists since 1995.
Currently exhibiting Keith Piper, a Black British artist of international significance. Beaconsfield is proud to have commissioned the latest digital work in the artist's oeuvre, Mic Drop. The new work is contextualised by the first London screening of Unearthing The Banker's Bones (2016), an Arts Council Collection 70th Anniversary commission.
www.beaconsfield.ltd.uk
Admission: Free
Beaconsfield, 22 Newport Street, Vauxhall, London, SE11 6AY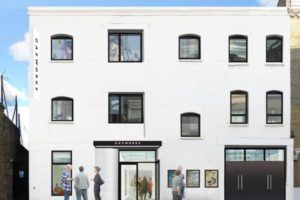 Gasworks
A contemporary visual art organisation, established in 1994. A host of London-based artists and a highly-respected international residencies programme, which offers rare opportunities for international artists to research and develop new work in London. Gasworks also commission emerging UK-based and international artists to present their first major exhibitions in the UK. All programmes are accompanied by events and participatory workshops that engage audiences directly with artists and their work.
Gasworks presents Contra-Internet, a major new commission and the first institutional solo exhibition by London-based artist Zach Blas which marks the premiere of Jubilee 2033, a queer science fiction film installation that includes live action, CGI animation, blown glass sculptures and a single edition publication titled The End of the Internet (As We Knew It). Framed by existing works in animation, moving image and vinyl text, the exhibition confronts the growing hegemony of the internet.
www.gasworks.org.uk
Admission: Free
Gasworks,155 Vauxhall Street, London, SE11 5RH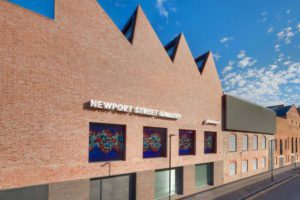 Newport Street Gallery
The realisation of Damien Hirst's long-term ambition to share his art collection with the public. His art collection is sprawled out over 37,000 square feet and six exhibition spaces. This gallery has an extensive list of artists, including Francis Bacon, Banksy, Jeff Koons, Pablo Picasso, Sarah Lucas, Gavin Turk, and many more.
Newport Street Gallery presents an exhibition of work by American artist Dan Colen (b.1979). Colen's first major London solo show spans over fifteen years and features new works, including large-scale installations.
www.newportstreetgallery.com
Admission: Free
Newport Street Gallery, Newport Street, London, SE11 6AJ
Invest in your future within a growing community
With a number of galleries in the Battersea area specialising in modern British and International contemporary art, Battersea Power Station has stepped up to the canvas and has announced they will invest £6.8 million in a cultural programme as part of its renovation.
The Village Hall which will be developed into a 5,000 sq ft multi-use venue will be part of Circus West, which is the first phase of the redevelopment of the power station. The plan is to transform Circus West into a village-like community, providing a diverse range of activities within the heart of the development.
The transformation will comprise of a 150-seat main hall that will be programmed with theatre, dance and comedy, as well as a smaller studio space, which can be used as a "cultural resource" for local residents. A civic institution such as this is an essential ingredient that almost every community wishes they had on their doorstep.
Have you fallen in love with the idea of raising your family in an area such as this? Be a part of the Battersea community today by taking a look into our range of off-plan apartments within the Battersea Power Station redevelopment. Call our dedicated team today on +44 203 888 5555.
We're always eager to hear from you!
Please submit your enquiry and a member of our team will get in touch with you soon.