Main Content
The healing power of nature and architecture
The healing power of
nature and architecture
The American architect Frank Lloyd Wright once said, "study nature, love nature, stay close to nature. It will never fail you." It is perhaps not surprising that sustainable living has now given way to wellness architecture that focuses on health, mood and performance. As April is the month of World Health Day, here are a few ways nature and good design can improve your life:
Focus & function
Shinrin-yoku, or 'forest bathing', in Japan centres on going out to nature to walk slowly, breathe, opening up all your senses. Research has even shown that people who practice forest bathing have optimum nervous system functions, well balanced heart conditions, and reduced bowel disorders.
Mood & motivation
You may have seen more plants and greenery in office spaces due to the convincing evidence by the Human Spaces report. They found that natural light and greenery could boost workplace productivity by 6%, increasing employee well-being and creativity by 15%. Architectural practices are increasingly responding to these needs by focusing on urban agriculture, public spaces and urban farming. This trend has led to movements like Conscious cities and Design Well are.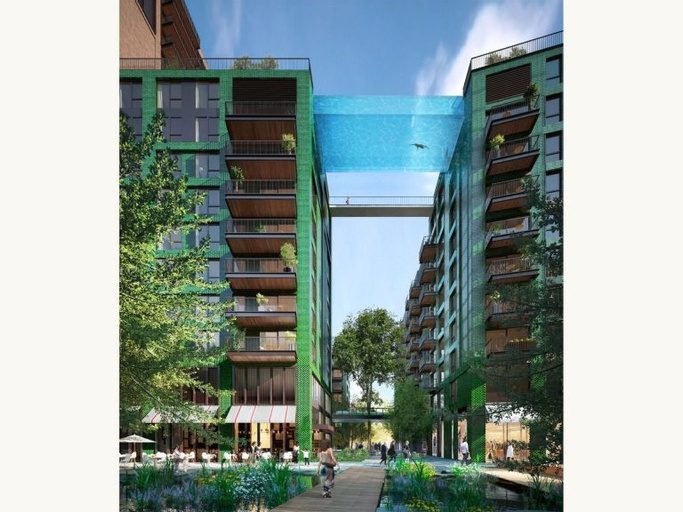 Energise & revive
The Embassy Gardens Apartments, London
Studies have linked being in nature with a lower BMI. Those who exercised outside were more energised and were less likely to suffer from obesity and other health conditions. Luxury real estate such as Eighteen residences in Islamabad, Pakistan are responding to this need. The site offers a golf course with an 18 hole championship course, a swimming pool, yoga studio and cricket pitch, with pristine lake views.
Global Wellness Institute reports that the wellness lifestyle real estate market is worth $134 billion: "There are now more than 740 wellness real estate and community developments built or in development across 34 countries – a number that grows weekly."
We're always eager to hear from you!
Please submit your enquiry and a member of our team will get in touch with you soon.