Main Content
Spring to action: May is the best time to sell your home
Spring to action:
May is the best time to sell your home
What month is the best time to sell your home? Analysis from Knight Frank shows that May is the month that sees more properties go under offer than any other month, with almost 10% of homes in the UK being sold in this month. The second and third busiest months were July and April.
Grainne Gilmore, Head of UK Residential Research, Knight Frank said:
With May approaching, the data suggests that now is the time to act if you wish to hit the sweet spot for selling.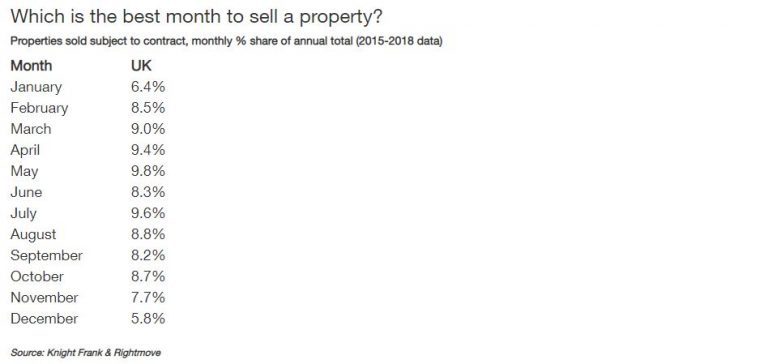 "The number of people registering interest in buying a property is continuing to grow, and vendors keen to sell may be well placed as agents report correctly priced homes are garnering strong interest."
Christopher Dewe, Partner, Country Business, Knight Frank suggested the weather could play a part:
"House hunting during the spring comes with a sense of romance that you don't quite find in the winter months."
4 top things to consider when selling:
Removal company: Ask friends and family for removal company recommendations. The British Association of Removers (BAR) provides up to four no-obligation estimates. Contact them about parking arrangements.
Get rid of unnecessary items: Before packing everything up, try to de-clutter, giving away items you don't use to friends or charity.
Inform services: Let your dentist, doctor, bank, local authority and schools of your new address in one go to avoid unseen mail.
Useful information: You can pass information on to new users that they may not be aware of, such as where the fuse box, stopcock and boiler is.
If you're thinking of selling your home or are looking to buy, contact Copperstones today on: 08 445 555 555
We're always eager to hear from you!
Please submit your enquiry and a member of our team will get in touch with you soon.