Main Content
The Residences Dorchester Collection – A landmark of opulence eyes completion in 2022
The Residences Dorchester Collection – A landmark of opulence
eyes completion in 2022
Owning a home with windows opening to beach, lake or canal is something that most of us always dream of because living near water is not satisfying, peaceful and equally rewarding investment. Dubai Waterfront properties located on the man-made island, coastline or next to the beautiful canal have always been high in demand. Therefore, developers tend to keep announcing waterfront projects in Dubai, to meet the insatiable demand of potential worldwide customers.
Here is another amazing waterfront project to watch out for in the neighbourhood named The Residences Dorchester Collection.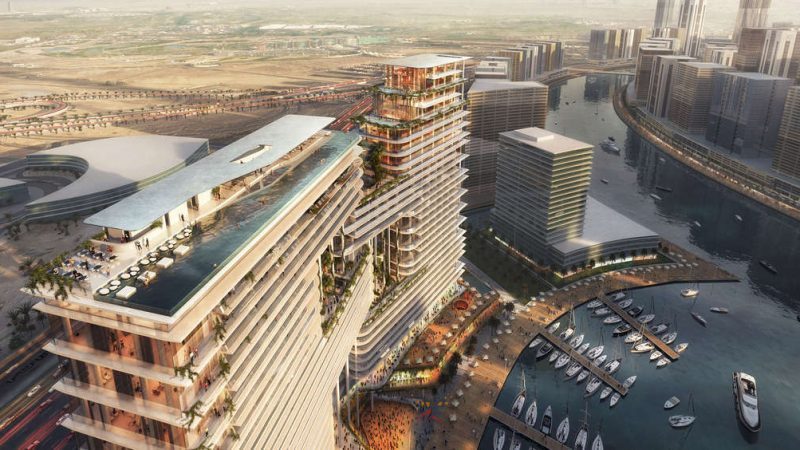 When is The Residences – Dorchester Collection due to open?
Slated to open by the end of 2022, The Residences by Omniyat is termed as a landmark of opulence in Dubai and marks the entrance of Dorchester Collection in Middle East. Omniyat, one of the most celebrated developer in Dubai has unveiled its masterpiece on the banks of Dubai Canal in Downtown Dubai and promises it to be one of the most luxurious developments in the region.
The development of The Residences – Dorchester Collection is more than 60 percent complete and the developer is confident to deliver it by the 3rd quarter of 2022.
What is the master plan of The Residences?
Interestingly, with this awe-inspiring project, the developer has blurred the lines between hospitality and residential properties. Located on the Marasi Drive in Burj Khalifa District, encompassing the views of Dubai Canal and the iconic Burj Khalifa, The Residences – Dorchester Collection is an architectural marvel comprising of glass-clad, inter-connected twin towers.
Design layout
Designed by an award-winning globally renowned architects Foster + Partners, one stunning tower boasts the 10th iconic Dorchester Collection five-star hotel while the other hosts luxury residences, ranging from two, three and four bedroom apartments boasting floor to ceiling glass windows, sliding doors, expansive terraces, and bespoke furniture.
The apartments start from two bedrooms spreading over 3,900 sq. ft. to four bedroom residences spanned over 10,000 sq. ft. to double height living options.
Moreover, the penthouse area increases up to 17,700 sq. ft. overlooking the Dubai canal and impressive Dubai skyline.
On 30th and 32nd level, the development offers six exclusive four and five bedroom penthouses.
The penthouses are elegantly designed to create an ultra-chic, private and lavish lifestyle statement for high-end residents.
The interior design done by none other than Gilles and Boissier, who are known to focus on intricate details and exquisite finishing.
Attention is paid to every intricate detail, with apartments done with exquisite finishing complemented with pastel palette and magnificent features including floor to ceiling glass windows, terrace turn into a sanctuary and bespoke furniture for the residence, personally designed by Gilles & Boissier.
Salient features
The AED2.5 billion structure houses just 39 fully furnished residences and the other half of the building comprises of an ultra-luxury five-star hotel, fully managed by Dorchester Collection, known in the market for its refined taste, unbeatable service standards and efficiency in deliverance. – Residents can experience a luxury hotel living feel at their home with professional team a call away, 24/7 concierge service along with porter services. – Valet service will also be there at residents' disposal along with a number of luxury services such as direct hotel access and housekeeping for the residences.
Distinguishing offerings
Step into luxury lifestyle when you choose to live in The Residences – Dorchester Collection as you will find: – splendid fully equipped kitchens with modern up-to-date appliances including fridge and wine cooler by Sub-Zero, cooking appliances by Gaggenau – instant filtered, sparkling and boiling water by Quooker – tapware designed by THG Paris – the latest wide-screen televisions by Bang & Olufsen – audio system by Sonos – easy to operate home automation technology by Crestron to adopt smart living. – customized dressing rooms by Molteni Dada and Poliform
The Residences – Dorchester Collection boasts matchless amenities including:
private fitness centre, yoga studio, expansive infinity swimming pool overlooking Dubai canal and mesmerizing Dubai skyline.
a residents' lounge, a private dining space on 24th floor on Sky Garden with outdoor seating
water springs, open green spaces and unobstructed, mesmerizing views of the city.
Besides that, the residents can get their hands on a number of high-end retail options, fine-dining restaurants, cafes, and lifestyle shops.
The homeowners also have the chance to be a part of Dorchester Collection lifestyle, with access to One at Palm Jumeirah Beach Club.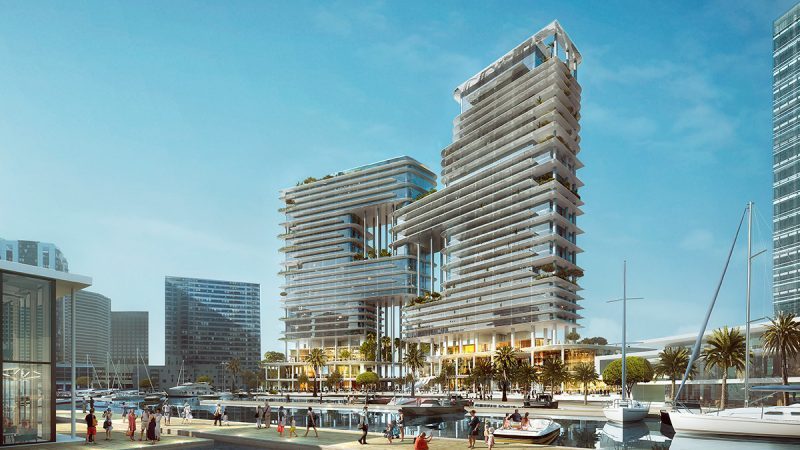 Mixing hospitality with residences – A brand new concept
Innovating a brand new concept of combining two different aspects is what makes The Residences – Dorchester Collection, the talk of the town. Mahdi Amjad, the founder of Omniyat, states, "The integration between hospitality and residential is an innovation that Omniyat has crafted for quite some time, and it is something that we will continue to embed within our future projects.
"We believe that service quality is as important as other elements such as architecture, interior designs and amenities. We are working with the most quintessential hospitality brand, Dorchester Collection, to bring their world-renowned experience to the region with both One at Palm Jumeirah and The Residences, Dorchester Collection, Dubai. We create bespoke building and service solutions for our residents, and we believe that hospitality and residential will always be this closely connected."
As mentioned by Mr. Mahdi, One by Omniyat at Palm Jumeirah would be the second project of Dorchester Collection in Dubai, which will give rise to a refined concept of services residences and hotel apartments market. And as Omniyat always sets benchmarks while giving a new direction to the market through its unique approach to handle the mixed-use developments, there will be a surge in serviced residences and hotel apartments in Dubai and other leading realty markets.
Copperstones takes pride in bringing The Residences – Dorchester Collection to our prestigious customers, which is about to be completed by 2022. Moreover, if you feel like having your primary, second or even third home in Dubai, we would like you to call us or email us with your investment plans. Our experts will get back to you and answer all your queries. Looking forward to hearing from you.
We're always eager to hear from you!
Please submit your enquiry and a member of our team will get in touch with you soon.