Main Content
The top 5 features every luxury property needs in 2018
The top 5 features every luxury
property needs in 2018
Mansion Global, an international magazine dedicated to luxury homes and mansions has published the most desirable aspects high-end customers are looking for in a property.
Gladly, Battersea Power Station residents will have the chance to enjoy all of these and more as the development is being built to the highest of standards.
The mega-project will be soon home to more than 4,360 residents who will enjoy exclusive amenities and services, many of which Mansion Global magazine marks as the most wanted features in the luxury property market.
We have rounded them all up below:
1. Test the waters
'The idea of a pool is very important—it just says luxury.' says Darren Sukenik of Douglas Elliman, NY in Mansion Global. Swimming pools have been an ongoing trend in luxury real estate for some time, but recently they have been gaining more ground due to the need of residents for a place to unwind.
Luckily, for Circus West Village residents at Battersea Power Station have private access to a gorgeous 20m level deck indoor pool where they can truly find their bliss. In addition, there's a spa suite also available featuring jacuzzi, steam and sauna rooms, as well as treatment rooms, a gym and a studio. According to Mansion Global, the so-called "sky pools" are a hot new amenity, too. Inspired by Dubai's luxury estate scene rooftop swimming pools are bound to be London's next big thing. Art'otel Battersea will feature a swimming pool on its rooftop that will boast generous views of the iconic Power Station. The private bar and the chaises longues will make the rooftop pool in Battersea the perfect place to relax.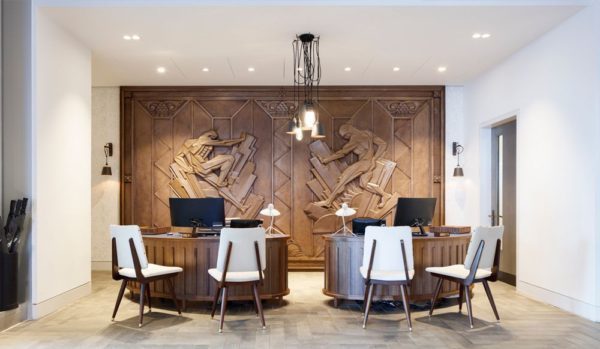 2. At Your Service
'The one very major trend in the luxury market are services—I mean real services, not pretend services' says Ms. Sunshine, a realtor operating in Florida and New York.
Are you looking for exceptional residential services in London? Battersea Power Station residents will enjoy a 24hr Concierge Plus service to cover their daily needs and offer above and beyond service for every occasion.
The Concierge Plus team promises to make every wish come true, including running your errands, picking up your laundry and getting you tickets to that sold out event that everyone is talking about. A truly exceptional team that also provides enhanced travel services, VIP welcomes and hotel upgrades through a network of 150 private villas and homes around the world.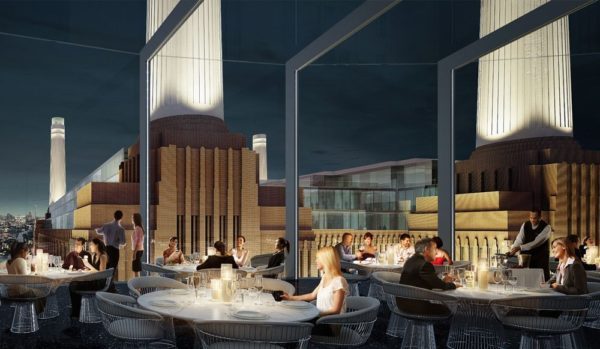 3. The Social Butterfly Effect
"People are asking me, how can I meet my neighbours?" Ms. D'arc says in Mansion Global. "They want to be able to socialize within a building."
With that in mind, Battersea Power Station is a great example of an iconic landmark which plans to transform into a buzzing community. Battersea Power Station will comprise of tons of community spaces all serving different purposes and satisfying diverse needs.
High-end residents are on the lookout for benefits and perks that will amplify their life. Battersea designers are determined to create this kind of service with amenities that will 'wow' the residents and their guests.
Battersea Roof Gardens will feature private rooms to hire such as business rooms, game rooms and screening rooms. The 7,400 sq ft. residents' lounge will be one of the largest roof gardens in London with BBQ and picnic areas available.
Planning on inviting friends over for game night, organising a chic dinner party or calling it a movie night with the neighbours will be a few of the many on-site activities that residents will enjoy.
Buildings are offering more community spaces where people can actually meet, Ms. D'Arc discusses in Mansion Global, where they can cook together or watch movies or have a drink.
The large chef's table and the private dining rooms both in Battersea Roof Gardens and in Prospect Place will be a hit with the residents since they will cook or entertain their friends in the privacy of their own home.
In addition, Prospect Place will boast extensive social places like the library, lounge, workrooms and a holistic yoga studio to align your body and mind.
To enhance the community in Battersea residents will have the chance to join the Power Club, that will help build social links between owners and residents. Featuring the Power Club app, residents will connect with their neighbours while enjoying exclusive events and lifestyle experiences. The Power Club membership will unlock further benefits to the members by giving them access to exclusive events like the Goodwood Revival, Coachella and the Cannes Film Festival.
4. Views As Big As Your Dreams
When upscale customers are looking to buy or rent, an exquisite interior is always a must. However, according to Mansion Global, now people are also looking for high ceilings and nice views to match their beautiful homes.
Battersea Power Station comprises of different residential buildings, designed by world-renowned architects like Foster + Partners and Gehry Partners, while some of the interiors are curated by LINLEY, Johnson Naylor and Michaelis Boyd.
Floor to ceiling heights in all properties, ranging from 2600mm to 2800mm create stunning bright and generous living spaces to attain the ultimate comfort.
Homes in Prospect Place can enjoy stunning views over the Electric Boulevard, the new high- street that will host 40 new retailers and restaurants and the Malaysia Square, a sinuous shaped two-level urban canyon. Every apartment in Prospect Place also features a private winter garden that residents can transform into a cool working space by the sun, a garden full of indoor plants and flowers or a reading space with books and soft cushions.
Battersea Roof Gardens residents will enjoy sweeping views of the Power Station, a truly iconic landmark to be transformed into a centre of leisure, retail and tech. The views from the Battersea Roof Gardens, designed by James Corner Field Operations, the same team that designed the High Line in New York, are set to be one-of-a-kind. The gardens will be amongst the largest in London, featuring sun lawns, seating areas and more greenery for residents to benefit from.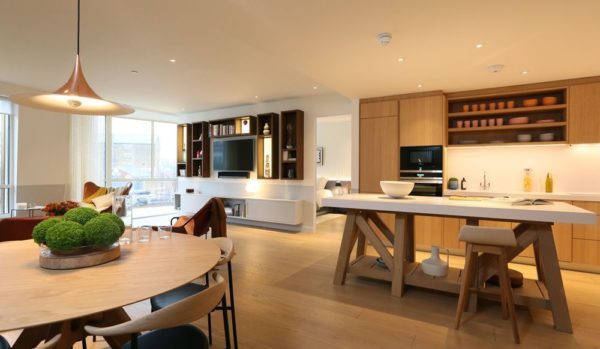 5. That Extra Something
Sometimes a bigger fridge or an extra wardrobe won't do, based on the luxury magazine.
Homes inside Battersea Power Station are equipped with details that make all the difference and since they are on the market as off-plan residents get to choose the amenities of their new home.
Apartments and penthouses are highly customizable to fit the standards of the owners, who are looking for sheer luxury and absolute ease. Prospective residents can choose from different colour palettes to be featured in their new home's interior inspired by LA, New York and London.
Mainly curated from the prospective owners and the interior designers, the apartments will boast bespoke elements such as staircases, wine coolers, custom joinery and tiles that will set the tone of the interiors.
If you are looking for your dream home, look no further. Call Copperstones today on +44 (0) 8445 555 555 and gain access to our exclusive portfolio in London.
We're always eager to hear from you!
Please submit your enquiry and a member of our team will get in touch with you soon.