Main Content
Why investing in London Properties is a viable option?
Why investing in London
Properties is a viable option?
With so many opportunities to make money in today's world, it gets hard to decide where to invest your hard-earned money. However, in order to enjoy great returns, you must be clear about your objective and sure about where you will be investing. Despite the global pandemic, Brexit ordeal, or political turmoil, the London property sector proved to be a long term investment market, with stable and promising returns.
In this blog, we will deliberate certain pointers that make London a viable property market, why invest in London properties and suggestions to help you make a well-educated investment decision.
London – World's best city to call your home
London property market showed a quick recovery
London – A safe haven for investment
London – A transparent property market
London properties offer a hedge against inflation
Let's discuss them in detail now.
London – World's best city to call your home
If the market is analysed on a current property prices basis, the situation is indeed ideal for global investors to invest in London properties. Invest now to reap benefits later in terms of capital appreciation and you can make a profit through steady rentals, too. A steady rental amount is another significant perk of investing in London properties because every year, people from every country move there to be a part of the multi-cultural population. The growing economy and inviting job market pose to offer a lot of opportunities.
This makes London an excellent option for high-net-worth individuals to invest in buy-to-let properties and start earning stable rental returns.
London property market showed a quick recovery
The market trends have been shifted tremendously over the past few years, which changed the rental market. A few notable changes were due to Brexit and the global pandemic due to which the market had to suffer some significant losses. In the last two years, end-users tend to look for bigger spaces to enjoy privacy and a new set-up of work from home. With lesser demand in the central city, the prices of these properties also decreased. However, the government came forward to rescue the London property market and as soon as the international traveling ban was lifted, the market started recovering and the property values started increasing again.
Though the prices have not touched a peak yet it is expected they will fully recover in the coming years. Therefore, a majority of real estate experts suggest you invest in London properties now to earn considerable gains later.
London – A safe haven for investment
When it comes to choosing an excellent market for real estate investment, London claims the top position due to its status as a safe haven for real estate investment. A large number of investment options are available for both local and foreign investors to choose from. Moreover, there are no restrictions for foreign investors, when it comes to investing in London properties and the buying procedure is exactly the same as for a UK national.
It is one of those real estate markets that have adopted investors' friendly regulations, allows buyers to invest anywhere, and offers ease to transfer funds in and out of the UK.
London – A transparent property market
Why invest in London properties? Foreign investors want a detailed answer to be sure about their investment. They are mostly concerned about market transparency, capital appreciation, Returns on Investment (ROI) and safe investment opportunities. Let us tell you that the entire UK property market is governed by all these principles; such as the market being transparent for every investor due to the abundance of independent research already taken place, and industry data that is available at a click of a button. When it comes to investment safety concerns, the legal private property framework has stood the test of time – ensuring the same property rights for everyone and policies to protect investors' rights.
Being one of the most dependable and safe markets in the world, many wealthy investors always remain willing to invest in London properties. According to Jones Lang Lasalle's (JLL) 2020 transparency index, London has taken the top spot as the world's most transparent real estate market.
London properties offer a hedge against inflation
London real estate is one of the most coveted investment markets around the globe. It provides a hedge against inflation, strong capital appreciation, and stable rental returns in long term. Moreover, this property market is never stalled – not even during the COVID-19 induced global pandemic. The best feature about this market is the emphasis on an exit strategy, even during worst market conditions, you can find a buyer for your property. This is the beauty of the London realty market and in most cases, the property value is appreciated.
Moreover, an investor can devise an investment strategy according to his/her needs. For instance, a buy-to-let property can be used as a base for your son/daughter staying in London for higher studies.
Why investing in London properties is a good decision?
After reading this all, you must be sure about it that why investing in London properties is a great opportunity. With stock being low and demand remaining higher, property prices will start increasing across the UK. After the COVID-19 induced global pandemic, which was expected to correct the property prices in this market, when interest rates are low the current property prices make London highly attractive for serious buyers.
Where to invest in London?
Knowing where to invest is, the most crucial step to make the most from your investment. Let us help you shortlist a few properties, based on our research and chosen developments such as Battersea Power Station, Marylebone Square, and One Thames City.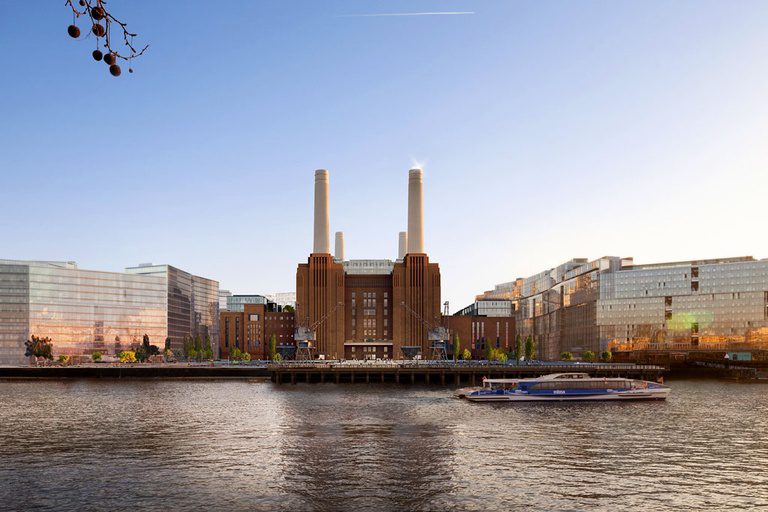 Battersea Power Station
Battersea Power Station, once a coal-fired power station, is now a world-famous London's mid-century landmark on the south bank of the River Thames. The Grade II listed building remained empty until 2014 but after the current regeneration plan, the entire development will be transformed into exceptional residential units, community clubs, corporate office spaces, restaurants, cafes, bars, entertainment spaces and high-end retail shops. Creating new open space is at the heart of the new master plan of Battersea Power Station development. Almost 20 acres of land are dedicated to crafting new open spaces, which equates to almost half of the total site footprint. An amazing and creative kids' play area and signature community centre are designed at the verge, where the new Nine Elms linear park opens up to The Power Station site.
Another major focus is to offer premium amenities and world-class facilities to make living here at Battersea, a unique and remarkable experience in its own. A bespoke residents' lounge is designed by David Linley that offers socializing and working spaces on the riverside. Winter gardens are designed considering residents' need for open space and an array of high-end retail stores and restaurants are also there to meet residents' every need.
Apple will also move its UK headquarter to Battersea Power Station and occupy 500,000 sq. ft. office space across six floors in the central boiler house in the main Power Station. It will shift almost 1,400 employees from its eight London offices into this building.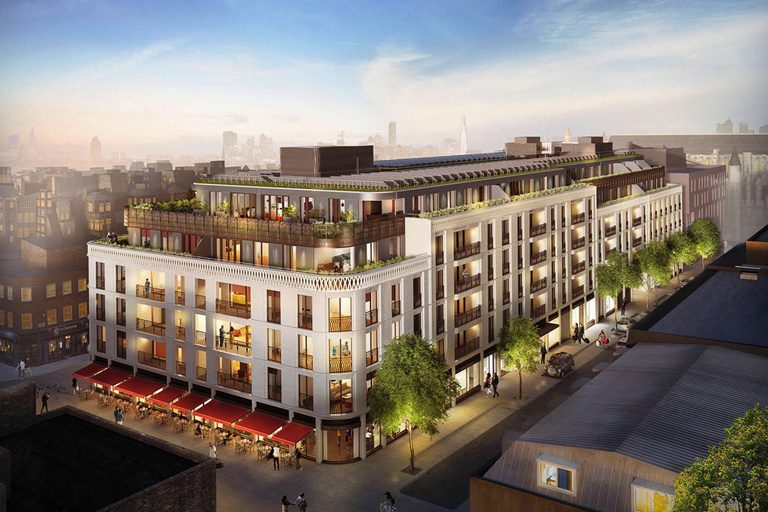 Marylebone Square
Marylebone Street is one of London's most sought-after locations. Though its proximity to Oxford Street and Regent's Park is a contrasting factor to its green surroundings and country feel, yet it can be said it's a sanctuary within an urban locale. Marylebone Square, with grand terraces, ceramic façade and balconies wrapped up in aluminum balustrades, pays a tribute to London's country lifestyle.
With this contemporary design featuring the classic country touch, architect Simon Bowden seems to remodel the classic London mansion. It is home to 54 luxury apartments, carefully selected boutiques, restaurants and a community hall that altogether offer high quality living in a comfortable environment. The apartments are further divided into one, two and three bedroom apartments and penthouses.
Another major attraction of this building is its open 5-level glass-canopied courtyard to fills the area with ample daylight and fresh air. The courtyard is beautifully landscaped with a central pond, and tall trees instilling a sense of Feng Shui.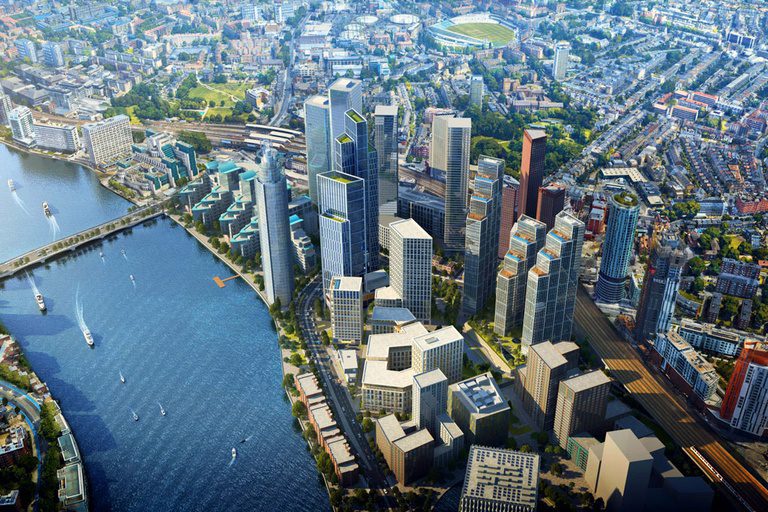 One Thames City
One Thames City, a collection of ultra-luxury residences complemented with excellent facilities, is designed to have exclusive features. Developed by a Chinese Developer R&F Properties Group in a joint venture with CC Land, it is a fine blend of contemporary residences, world-class facilities, and a prime London location. Being perfectly positioned in Nine Elms, One Thames City is a master project of twelve buildings in total – boasting around 1,500 luxury apartments, retail units, restaurants, office spaces, recreational options, and 2.5 acres of open green spaces.
Designed by Skidmore Owings & Merrill LLP and built by JRL/Midgard, No. 8 is the first, 53-storey project in the master development. Soaring 180 meters in the sky, the development offers around 298 luxurious new homes ranging from one bedroom to magnificent five bedroom Sky Collection apartments. The project is near completion and will be handed over to the residents by the end of 2022.
Conclusion
In this blog, we have highlighted a few reasons why you must invest in London properties and discussed some viable investment options as well. To capitalize on the best available options and reap ultimate benefits, we suggest working with London real estate experts. There is no better company than Copperstones Properties, a premier real estate agency, having a multitude of residential and commercial units along with an array of high-end properties in London's landmark Battersea Power Station.
If you are interested to be a part of any luxurious residential or commercial project in and around London, all you need is to pick up your phone and drop us a call at +44 203 888 5555 and one of our highly-skilled team members will get back to you with a list of properties and bespoke investment plan. Remember, the time is now.
We're always eager to hear from you!
Please submit your enquiry and a member of our team will get in touch with you soon.