Main Content
Battersea and Nine Elms host the most immersive art in London
Battersea and Nine Elms
host the most immersive art in London
London is a metropolis that celebrates all cultures and art forms through an abundance of varied and dynamic mediums. It is impossible to be without inspiration or entertainment in this vibrant city. Widely acclaimed as the cultural capital of the world, London and its neighbourhoods perfectly represent the arts: home of world-class opera, ballet, theatre, musical theatre, museums, galleries, music and exhibitions.
Today we take a closer look at London's south side of the river, currently transforming into a hub for immersive contemporary art with renewed galleries, art installations and lucrative power commissions.
Specifically, Battersea Power Station and Nine Elms are upcoming areas of cultural interest that are set to receive global prominence very soon. The regeneration of Nine Elms is a multi-billion pound project that is on track for keeping London's cultural status and honouring the city's appetite for contemporary art.
Here are the latest art events and galleries in and around Battersea and Nine Elms.
Pump house gallery
A welcoming space for audiences to see, participate and engage in contemporary art.
Supporting high-quality artistic activity that provides audiences with different perspectives on how, where and why we live the way we do is at the heart of Pump House.
Presenting work both in the gallery and off-site, Pump House Gallery provides its audiences with a range of experiences and activities that unpack challenging, thought-provoking, contemporary issues.
www.pumphousegallery.org.uk
Pump House Gallery, Battersea Park, London, SW11 4NJ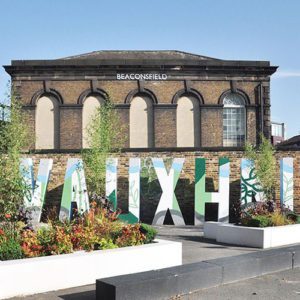 Beaconsfield Gallery Vauxhall
Beaconsfield Gallery Vauxhall (BGV) provides a critical space for creative enquiry. It is a unique artist-run testbed that occupies a niche between the institution, the commercial and the 'alternative' and has provided a laboratory as well as a presentation space for contemporary art and artists since 1995.
Set up in the former Lambeth Ragged School by artists, BGV commissions, and is commissioned, nationally and internationally and has a long history of innovative collaboration with other organisations and individuals, on and off-site.
www.beaconsfield.ltd.uk
Beaconsfield, 22 Newport Street, Vauxhall, London, SE11 6AY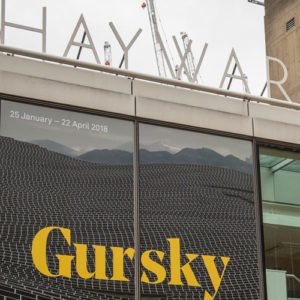 Hayward gallery
Hayward Gallery has gloriously reopened after two years of extensive refurbishment with the first major UK retrospective of the work of acclaimed German photographer Andreas Gursky. The brutalist Southbank gallery, which originally opened in 1968, has hosted shows by major names including Andy Warhol and Francis Bacon.
During the two-year revamp the focus of the refurbishment project was to restore its 66 glass pyramid roof lights in order to let controlled natural lighting into the upper galleries for the first time, transforming the experience of the hundreds of thousands of visitors. The stone floors of the gallery have also been replaced and the iconic sculpture terraces have been repaved.
Gursky is known for his large-scale, often spectacular pictures that portray emblematic sites and scenes of the global economy and contemporary life. He is widely regarded as one of the most significant photographers of our time and the retrospective is not one to miss.
www.southbankcentre.co.uk/venues/hayward-gallery
337-338 Belvedere Rd, Lambeth, London SE1 8XX
Art night
Art Night is London's nocturnal contemporary art festival taking place on 7th July 2018. It's an all-night free event where twelve renowned artists will transform spaces and galleries across London, running down the length of the river Thames.
One of the highlights of this year's line-up will be Anthea Hamilton transforming Battersea Power Station with augmented reality. Anne Mullins, Head of Culture, Nine Elms Vauxhall Partnership, said:
"This is such an exciting time for Art Night to come to Nine Elms, as it continues to transform from an area of light industry to a vibrant new district of central riverside London. The festival is the perfect opportunity to celebrate the area, its heritage, it's an exciting cultural offer while bringing everyone together."
This year's event will partner up with the recently reopened Hayward Gallery where visitors will see a giant outdoor video projection of a comfortably furnished living room exploding in slow motion.
Art Night will be truly unique for Battersea and Nine Elms since the event will explore the rich history of gardening and urban produce between Southbank and Battersea Power Station, a historically known area of London for its production and supply of vegetables, fruit and flowers.
This is the largest free contemporary festival of London where internationally renowned artists will take the lead to show us Thames' riverbank as we've never seen it before. MBNA Thames Clippers boat will also run a bespoke route until 4 am on the night of 7th July to accommodate art lovers to the installations and galleries.
http://www.artnight.london/
In various locations on the Southbank.
Wandsworth art fringe
Based in Battersea Park, Wandsworth's Art Fringe annual festival will open to the public on May 4th and aims to create new bonds between neighbours and strengthen the community through art. "It's crucial to get people involved in the arts and seeing Wandsworth as a cultural, exciting place to live and visit. It's a large borough and a lot is happening." WAF producer, Cath Mattos highlighted. 88% of visitors of WAF felt the festival enhanced a sense of community in Wandsworth.
https://www.wandsworthfringe.com/
In various locations at Wandsworth.
The village hall
Battersea Power Station's commitment to enhancing the community in Nine Elms is reflected in the £6.8 million investment in cultural programs. This new venue created in collaboration with Battersea Arts Center is situated beneath the railway arches in Circus West Village, Phase 1 of the development. The Village Hall spans across 5,000 sq. ft. as a multi-use venue featuring two performance spaces.
It comprises a 150-seat main hall that will be programmed with theatre, dance, and comedy, as well as a smaller studio space, which can be used for community-focused activities.
Kate Scanlan, Senior Events Manager at Battersea Power Station, has highlighted the challenge in creating a community-led arts venue as part of new development. "We are all committed to this vision of how culture is the central point of creating a sense of a new space in an iconic location that everybody loves, everyone feels ownership over but actually no one has ever had public access to" Scanlan has noted.
https://batterseapowerstation.co.uk/ 188 Kirtling St, London SW8 5BN
Gasworks
Gasworks is a contemporary visual art organisation, established in 1994. Host of London-based artists and a highly-respected international residencies programme, offering rare and exciting opportunities for international artists to research and develop new work in London. Gasworks also commission emerging UK-based and international artists to present their first major exhibitions in the UK. All programmes are accompanied by events and participatory workshops that engage audiences directly with artists and their work.
www.gasworks.org.uk
Gasworks,155 Vauxhall Street, London, SE11 5RH
Newport street gallery
Newport Street Gallery is the realisation of Damien Hirst's long-term ambition to share his art collection with the public. His art collection is sprawled out over 37,000 sq. ft. and six exhibition spaces. This gallery has an extensive list of artists, including Francis Bacon, Banksy, Jeff Koons, Pablo Picasso, Sarah Lucas, Gavin Turk, and many more.
www.newportstreetgallery.com
Newport Street Gallery, Newport Street, London, SE11 6AJ
Battersea art center
The forward-thinking Battersea Arts Centre, which inhabits the Old Battersea Town Hall, has become synonymous with experimental theatre. BAC is a hub for the arts hosting drama shows, discussions and dance events, plus a bar with homemade food. Friendly environment paired with daily activities for the whole family make BAC an endless source of inspiration accessible to everyone.
https://www.bac.org.uk/
Lavender Hill, London SW11 5TN
Feel inspired by the art in the area. Own a beautiful home in Battersea Power Station and be part of the growing community. Call Copperstones today on +44 203 888 5555 to book your first meeting.
We're always eager to hear from you!
Please submit your enquiry and a member of our team will get in touch with you soon.